admin
Happy new year…
As you can see, we have a new site design, on a new server.
Please feel free to express any thoughts about it in the comments. Anything need to be changed? Could something be better? Is it easy to navigate/read?
I have a story on Spiked today, about the pre-Cancun messages from the Met Office. In retrospect, I wish I'd called it "Some of our Global Warming is Missing", but I expect it's been said before.
Conventional climate wisdom has it that once 'the science' is put before politics, politicians will respond to the imperative to save us from Gaia's revenge. So each year, representatives from each country that has signed up to the United Nations Framework Convention on Climate Change (UNFCCC) assemble to turn it into an agreement to limit CO2 emissions.

But science is a slow process; politics happens much faster. In the rush to get the most recent research under the noses of policymakers, those engaged in the climate debate show that climate politics exists before climate science has even got its thermometer out.
I don't normally 'do' science, but it seems that the MO are getting less coherent and more involved with the politics.
It would have been good to also have had a look at the stuff from the Tyndall Centre / RS Phil Trans A and their panic about 4 degrees, but there wasn't room.
While you're over at Spiked, check out Eero Iloniemi's article on  land prices in places that are about to be washed away by climate change and sea-level rise.
I've been too busy for blogging recently. To break the silence, I thought I'd post this presentation I gave at a debate at York University this time last year. The discussion was about the view often expressed by environmentalists that there is no need for any further scientific debate.  Needless to say, our side won the vote about the motion.
---
One of the most striking characteristics of the climate debate is the almost routine confusion of politics and science.
"Climate change is happening", we're told, time and time again, therefore "we need strong, radical, international frameworks on climate change", laws, regulation, and maybe even rationing in order to prevent a disaster.
In this view, we need to fundamentally change our economies, our industry, and our lifestyles. And we need institutions to be put in place to make sure this happens.
This has even become an argument against democracy itself. This argument holds that the public are too stupid to understand the gravity of the situation we face. Democracy therefore becomes no more than a means to satisfy individual greed and indulgence in the face of catastrophe.
"We are fiddling with our ipods and plasma widescreen TVs while Rome burns."
My argument here is that to forbid the discussion of the science of climate change is therefore to forbid the discussion of the organising principle of today's political institutions.
We cannot challenge it because it exists behind closed doors. It exists on computer simulations, guarded by today's priests: a holy order of climate scientists.
The scientific proposition that CO2 causes or will cause catastrophe has formed the basis of a system of ethics and a system of politics. This system is environmentalism, and it exists in contrast to human-centric systems of thought and politics. It informs the creation of supra-national political organisations, such as the UNFCCC and treaties that follow in its wake. It informs our industrial transport and the energy policies and strategies of our government. It establishes the relationship between individuals and the state.
We take it for granted that this proposition, or set of propositions, is true, because science is, in today's world, the last seat of authority.
The question I have is about whether that desire for political authority exists before or after climate science. I believe that the politics is prior.
The unstated premise of environmentalism is that politics is impotent to face the challenges of development.
Once this view has been established, once we decide that politics is pointless, catastrophe becomes a given.
As I argued on Tuesday, catastrophe is inevitable, only if we take it for granted that we cannot organise the world to combat poverty through development, i.e. through the creation of wealth.
We hear so often that climate change will be worse for the poor, but we never interrogate this claim to ask whether it might be better to address the issue of poverty than to attempt to make other people's lives better by driving less.
So we hear that the 300,000 deaths attributed to climate change are a bigger concern than 40 million deaths — and the rest — from poverty, throughout the world.
This dysnumeric moral calculus is owed to our politicians' inability to generate authority for their political ideas in political terms: by asking you to engage with them, for instance. It is owed to their inability to connect with the public. This has driven politicians to search for another basis for their authority. Contemporary politics cannot conceive of a way of making life better for the millions or billions of people living in poverty in this world, never mind finding a way of improving life for the rest of us. There is no science which could serve as the basis for such an idea.
Accordingly, we are forced to accept a form of politics that is limited by the ethical imperatives seemingly issued by climate and environmental science
This, it is argued, is evidence-based policy-making."The science is in", and the continued debate about climate change impedes the possibility of "rising to the challenge" we are faced with. Instead, I would argue, we can see policy-based evidence making.
The catastrophes that we are confronted by, are instead the products of today's vapid political imaginations. They confused their own impotence for material reality. No wonder the other 'side' does not want there to be a debate.
A continued debate might reveal just how hollow today's political discourse actually is: what is passed off as climate science is a fig leaf. It hides our politicians shame: an embarrassment of bad faith, bad politics, and bad science.
The previous post on this blog looked at the bizarre relationship between former Labour government minister (now Labour Party leader) Ed Miliband, and the 10:10 founder and Age of Stupid director, Franny Armstrong. One of the most curious things that this uneasy love-in produced was the escalation of the phenomenon we call pastiche politics – politicians and activists dress up as history-defining players of the past in an effort to conceal the vacuity of their perspective on the world. The 'splattergate' video produced by the 10:10 campaign epitomised the tendency of today's wooden political actors to do nothing other than alienate themselves from those they intend to persuade.
After the bloodbath – an ill-conceived effort to use self-deprecating humour, apparently – The Guardian seems to have found a new film-maker and film to serve as (ahem) damage limitation following Richard Curtis's video nasty. It's a trailer for a documentary glorifying the achievements of activist groups Climate Rush, Climate Camp, and Plane Stupid. But it's no less revolting than the 10:10 bloodbath.
[youtube iM8iAK58-G4]
It's a classic case of pastiche politics. The big-hitting point they close with is made by a 'domestic extremist', who 'puts her body in the way' of business as usual in an effort to change the world.
You know, Rosa Parks sat down on a bus; the law changed, because lots of people agreed with her. So that's what we have to do.
Rosa Parks didn't have a self-congratulating, white, middle-class, privileged production team with private incomes following her every move, though. The Domestic Extremist compares herself favourably to Parks, but convinces only herself of the virtue of her activism. Rosa Parks bravery in the face of the possibility of brutal treatment by the police, physical attack and murder, and institutional injustice simply does not compare to the actions of the pastiche protester. She 'doesn't mind getting arrested', because it will make little difference to her. Sure, she'll get man-handled by some policemen, she'll be arrested, and charged with some public order offence. That's uncomfortable, but it is child's play compared to the treatment suffered by genuine civil rights protesters throughout the world and throughout history. She'll continue her comparatively privileged life, which will only be troubled – if it is at all troubled – by the consequences of her own actions, not by the colour of her skin. What is more, she'll enjoy the support of whichever politicians are asking for her support, such as Miliband, and now the UK Prime Minister, David 'vote-blue-go-green' Cameron.
The trailer ends with the following plea for funds to finish the film:
This project won't happen without your support
But it could equally be a mission statement for the environmental movement as a whole. Because, contrary to what our Domestic Extremist says, this is no popular movement. That's why these protesters have to resort to pastiche politics – masquerading as popular protests of the past.
During my very busy spring and summer, one of the things I didn't have time to do was look more closely at the UK's General Election results. This post comes a bit late, but it's worth saying, nonetheless.
The election was perhaps the dullest and least inspiring in Britain's history (certainly in my history), which means that anything remotely unusual appeared as some kind of phenomenon. And so it was with the first ever seat in the House of Commons for Caroline Lucas, one of our favourite subjects here on Climate Resistance. Lucas won the seat for Brighton Pavilion.
Caroline Lucas's prominence in the media has always intrigued us. As a Member of the European Parliament, Lucas always got far more attention than most of her counterparts, more even than her fellow Green MEPs. As pointed out in previous posts here, Lucas has hardly scored well in European elections. In 1999, the Green Party in Lucas's constituency — the South East of England — only took 7.42% of the vote which only had a 24.73% turnout, i.e. they only earned the votes of 1.8% of the electorate. In the 2004 elections, they only performed slightly better, taking 7.9% of the vote with a 36.78% turnout — 2.9% of the electorate. In 2009, the Green Party took 11.6% of the vote with a 37.45% turnout, meaning 4.35% of the electorate — 271,506 out of 6,231,875 people. That's an improvement, of course — possibly largely due to the attention given to Lucas by the media — but it's an improvement only from virtually nothing to minor fringe in an era of mass cynicism of politics.
Clearly, Lucas's prominence in the media has been not only due to sympathy amongst TV and radio producers for her agenda, there's also the fact that her breathless and shameless doom-mongering and designer wardrobe helped to spice up otherwise dull current affairs programming. Her senior role as co-principle speaker (alongside Derek Wall) of the Green Party also helped boost her profile, but only marginally. When the party abandoned its commitment to flat hierarchy, Lucas was elected leader. With the slow decline of the mainstream parties support amongst the voting population, the possibility of a Green Party candidate in Westminster has grown. The Green Party faced the prospect of having its star performer locked away in the EU parliement at Brussels or Strasbourg, rather than in the UK, meaning that some scruffy hippy or eco-socialist might take the limelight from the party's leader. Lucas was parachuted into Brighton — arguably Britain's capital city for alternative lifestyles. You can get reiki with your mung bean salad and humous to go, in Brighton.
The media — especially the Guardian — hailed the Green Party's success as 'historic'. But was it? After nearly half a century of political campaigning as PEOPLE, the Ecology Party, and latterly as the Green Party, it is surprising that it has taken so long for the Greens to achieve what independent candidates have managed without a party — never mind 200 election workers for a single constituency — behind them. The results reveal a close race in a relatively high turnout of around 70%.
| | | |
| --- | --- | --- |
| Lucas, Caroline | Green | 16,238 (31.33% / 21.93%) |
| Platts, Nancy | Labour | 14,986 (28.91% / 20.24%) |
| Vere, Charlotte | Conservative | 12,275 (23.68% / 16.6%) |
| Millam, Bernadette | Liberal Democrats | 7,159 (13.81% / 9.7%) |
For each of the 200 party workers working on her election campaign locally, Lucas won 81 votes. Of the 74,000 people eligible to vote for Caroline Lucas, only 16,238 of them did. Her majority is is just 1,252. Nonetheless, she won…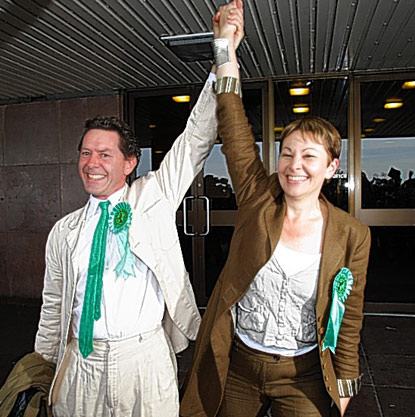 (An interesting aside…  the man holding Lucas's hand aloft — her partner, Richard Savage — 'taught' me English at upper school. So any comments about the abuse of commas, poor spelling and grammar on this site, you can address to him.)
So does this victory represent the electoral tide turning in the Green's favour, or was Lucas the lucky beneficiary of undeserved media attention, 200 party activists, and the sympathies of the most radical and alternative constituency? A view of the Green Party's performance across the UK suggests that the country is not turning green.
In fact, the party didn't even perform as well as it did in the 2005 General Election, losing 0.08% of the vote, but gained slightly in real numbers. In 2005, the party scored 257,695 votes nationwide, against a turnout of 61.2%. This year, the Green Party only improved this result to 285,616 votes, in a turnout of 65.1%, in which 29,594,978 were cast — the Green Party earned less than 1% of the vote. To put this into context alongside other non-mainstream parties, the British National Party got 563,555 votes, and the UK Independence Party — which mainly stands on an anti-EU platform — took 914,154, yet in spite of winning nearly 2 and four times as many votes as the Green Party respectively, neither party won a seat.
A closer look at the performance of other Green Candidates demonstrates that Lucas's result is an outlier.
The Green Party put forward 334 candidates. Of these, just 7 — SEVEN! in a party that has nearly 40 years of history — kept their deposits.
| | | | |
| --- | --- | --- | --- |
| Seat | Candidate | votes | %vote |
| Brighton Pavilion | Lucas, Caroline | 16238 | 31.33 |
| Norwich South | Ramsay, Adrian | 7095 | 14.92 |
| Cambridge | Juniper, Tony | 3804 | 7.59 |
| Lewisham Deptford | Johnson, Darren | 2772 | 6.72 |
| Brighton Kemptown | Duncan, Ben | 2330 | 5.46 |
| Hove | Davey, Ian | 2568 | 5.15 |
| Edinburgh East | Harper, Robin | 2035 | 5.1 |
It's worth pointing out, too, that these poor results include the seats right next to Caroline Lucas's: Brighton Kempton, and Hove. It would take you just minutes to walk between these constituencies, and you'd barely notice the difference between them. It's likely that these Green Party candidates benefited from the attention Lucas had from the local and national media, though reflects the ambivalence felt towards the party when there isn't a celebrity standing.
Even the next most successful Green Party candidate — Adrian Ramsay in Norwich South — failed to collect even half as many votes as Lucas. And the next most successful candidate again — former director of Friends of the Earth, Tony Juniper — barely got half as many votes as Ramsay.
The loss of 328 deposits would have cost the Green Party £170,000. But it gets worse for the poverty-stricken party of doom and gloom. 47 Green Party candidates polled less than 1% of the vote in their constituency. 258 Greens polled less than 2%. 310 Green Candidates polled less than 3%. 322 polled less than 4%. Her fame and success has not worn off on Caroline Lucas's brother, Eric Lucas, who only got 1,120 votes — 2.38% — in Bath. My old home constituency of Oxford East only gave GP candidate Sushila Dhall 1,238 votes – a loss of 2.1% of the previous election's Green vote. This is very surprising because Oxford East, like Norwich and Brighton, is a centre of more radical politics and culture, and has been home to the likes of George Monbiot, Mark Lynas, Crispin Tickell's son, Oliver, the author of Kyoto 2, and George Marshall, and was the place where Lucas began her career in politics. You would expect at least a challenge to the mainstream parties to have come from at least one other constituency in the entire country. But none came.
Here is the announcement of the result for Lucas's constituency, and her victory speech, as seen on the BBC's election coverage.
Thank you. Tonight the people of Brighton Pavilion have made history by electing Britain's first Green MP to Westminster.

Thank you so much for putting your faith in me and in the Green Party. Thank you so much for putting the politics of hope above the politics of fear.
Caroline Lucas rose to prominence in an era of political malaise. Her natty attire, earnest eyebrows, and in debate her shameless doom-mongery combined gave her an edge in the media that few other greens could ever hope to match. She has no other 'redeeming' qualities. She is an intellectual lightweight — a cipher — with only parrot-like grasp of the facts she uses in political argument. Her party is no less vapid, and her success has not been matched by its other candidates. Britain is no Greener for her election. Most surprisingly of all, she lacks sufficient self-awareness to cause her to feel any shame in  thanking her voters for 'putting the politics of hope above the politics of fear'. For someone with a PhD in English Literature, and who is married to an English teacher, she appears to have a particularly fragile understanding of the words and expressions she uses.
Leo Hickman, Guardian's 'ethical' agony aunt, usually occupies himself with the kind of pointless, trivial, and often completely bizarre ethical questions that only trouble the most moneyed and morally-disoriented environmentalist:
Which is the most eco-friendly alcoholic drink?
Should I buy the cheapest school uniform?
Is it OK to use a butterfly net?
Is it OK to go 'wild camping'?
What's the most eco-friendly way to dry my laundry indoors?
What's the best form of carbon offsetting?
What's the best way to save water during a hosepipe ban?
Can I buy margarine that is palm oil-free?
Should I trade in my old television for a new one?
How green is the iPad?
What's the one lifestyle change I could make that would have the most positive environmental impact?
How environmentally friendly are 3D glasses?
The questions the self-styled ethical environmentalist answers are conspicuously about how to live a distinctly consumerist lifestyle without guilt — a guilt he as proficient at engendering as he seemingly able to soothe. If these are 'ethics' then ethics — the moral philosophy that occupied the minds of Aristotle, Hume, Kant — can do no more than answer the question, 'how can I continue to enjoy the stuff that makes me feel guilty, yet still feel smug'? So much for ethics…
Leo yesterday ventured outside his usual mode of eco-lifetsyle-consumer-ethical advice, to reflect slightly more deeply on the ground of his environmentalism.
Why is human well-being improving globally when our environmental woes appear to be worsening all the time?
This is the 'environmentalist's paradox, Leo tells us, and it's the subject of a new study, called, 'Untangling the Environmentalist's Paradox: Why Is Human Well-being Increasing as Ecosystem Services Degrade?' by Ciara Raudsepp-Hearne of McGill University. [PDF]
The paradox is explained in Leo's question. Environmentalists have long been promising doom, but since Malthus, life for humans has shown continued improvement. One measure of this improvement we're particularly fond of citing, and which is briefly alluded to in the study is the fact that according to UNICEF, 10,000 fewer infants die each day than in 1990. This has troubled environmentalists who want to make the claim that 'climate change will be worse for the poor', and that the poor experience the effects of climate change already. They make shameless use of the plight of the world's poor instrumentally to make moral arguments for the mitigation of climate change. Yet their favourite statistic — that 150,000 people die each year because of climate change — is completely swamped by the figure from UNICEF. Clearly, the effect of development over the last 20 years has been to make life better. Yet environmentalists cling to their eco-ethics, and even development and disaster relief agencies, such as Oxfam, absorb them into their agendas. The question we have asked here is why they don't make an ethic out of development? Why do they insist instead — in spite of clear, empircal, concrete, and testable evidence — make a virtue out of 'sustainability'?
Normally, such a 'paradox' — disparity between what you can see in the world, and what you expected to see in the world — would cause you to stop and reconsider what had led you to your expectation. 'I've got it wrong', you'd say. Environmentalists maintain that we live in a closely dependent relationship with the natural world, and that our welfare is dependent entirely on measures of its 'health', and so expect to see human welfare diminish according to the 'health' of the natural processes. This co-relation of measures of health, has been shown, again, and again, and again, to have very little foundation. But instead of reflecting on this failure, the environmentalist says instead, 'there's something wrong with the world'.
Leo now cites the for reasons that the study gives, which may explain the 'paradox'.
1. Critical dimensions of human well-being have not been captured adequately, and human well-being is actually declining. Measures of well-being that suggest it has increased are wrong or incomplete.

2. Provisioning ecosystem services, such as food production, are most significant for human well-being; therefore, if food production per capita increases, human well-being will also increase, regardless of declines in other services.

3. Technology and social innovation have decoupled human well-being from the state of ecosystems to the extent that human well-being is now less dependent on ecosystem services.

4. There is a time lag after ecosystem service degradation before human well-being is negatively affected. Loss of human well-being caused by current declines in services has therefore not yet occurred to a measurable extent.
And Leo, naturally, takes the view that causes the least trouble for his troubled perspective… The apocalypse has simply been deferred…
But perhaps the most intriguing hypothesis – for me, at least – is the fourth. Can the environmentalist's paradox be explained away by the fact that there is a time lag between when we degrade our finite natural resources and when our well-being begins to be negatively affected? If so, what is this period of time likely to be? And will the transitional descent – when/if it finally begins – be slow or rapid? The answers to these questions will surely be key to working out who will ultimately prove to be correct out of the Diamonds or the Ridleys of this world.

When I think about this time lag I can't help but be reminded of the set-piece scene from the Oscar-winning Wallace and Gromit cartoon, The Wrong Trousers. Gromit, Wallace's canny dog, finds himself having to lay track as fast as he can in front of himself to ensure the toy train he's riding on remains in hot pursuit of the jewel-thief penguin escaping with a diamond. (Go to 1:28 on this video.) Using this as a metaphor, can humans keep laying the train track in front of them fast enough to avoid a nasty derailment? Can we keep perpetually delaying our fall and decline? The authors of the paper seem to be suggesting that our chances of doing so are diminishing all the time as the world becomes increasingly globalised:
Leo confuses the third and fourth ways of explaining the 'paradox'. He says that Doomsday has been postponed, but wonders if, after all, we'll be able to keep 'laying out new track', implying that it was human agency that caused the disparity between observation and expectation.
On that point, Leo's view reflects that of Martin Rees in his third Reith Lecture I looked at this week. Rees too wondered what are the limits of human agency…
Humans are more than just another primate species: we are special: our self-awareness and language were a qualitative leap, allowing cultural evolution, and the cumulative diversified expertise that led to science and technology. But some aspects of reality – a unified theory of physics, or of consciousness – might elude us simply because they're beyond human brains, just as surely as Einstein's ideas would baffle a chimpanzee.
Rees and Leo both make virtue — and a system of ethics — out of the possibility of the limits of human ability coming up against the limits of their material conditions. And this must surely go some way to explaining the paradox — not the answer to the paradox, but why an environmentalist sees a paradox.
First, a limited view of humans is presupposed far in advance of any understanding of that limit. On this view, presupposing that a limit exists allows you to say that we're necessarily approaching it, and cannot adjust our situation ad infinitum; therefore we must act as though we are up against our limits right now.
Second, a view of humans is presupposed in which they are simply passive consumers of resources — or 'ecosystem services' in the study's vernacular — instead of the active, creative agents which make them.
Third, an insurmountable limit of material possibility is presupposed to suggest that not only are we not smart enough, there simply aren't sufficient resources / 'ecosystem services' to provide humanity with its growing needs. We can't even invent our way past such 'natural' limits, because any innovation will inevitably tread heavily on some part of the complex network of ecosystems, which will cascade around the system to revisit our sins upon us.
These arguments are all familiar. Their inevitable consequence is that we must organise society in such a way that we can live within these ecological limits. From these environmental ethical imperatives emerge environmental politics.
However, the thing that Leo and the authors of the study don't seem to have considered is a fifth option: people do not depend on natural processes to the extent that they expected. Hence, there is no paradox to explain. Humans are far less dependent on the natural world than the study's authors and Leo imagine, and instead depend much more on themselves.
At first glance, this might look like the third option given to us in the study:
3. Technology and social innovation have decoupled human well-being from the state of ecosystems to the extent that human well-being is now less dependent on ecosystem services.
But this would agree that the paradox was real — it would accept the three environmental presuppositions. Which is exactly what the authors of the study do.
evidence suggests that future adaptation will be different and probably more difficult, as  resources near depletion at the global scale. Previously available options for migration and translocations of resource use are increasingly constrained by the scope of human use of the biosphere (Vitousek et al. 1997). Humans have been able to adjust to increased pollution, decreases in soil fertility, and other ecosystem degradation at smaller scales; however, there is evidence of a widening gap between the intensity and complexity of global change and humans' ability to adapt rapidly and effectively on a large scale (Homer-Dixon 2000). For example, there has been little effective response from the global community on climate change, indicating social inertia in the face of even a well-recognized challenge (Adger 2000).
The study rejects the theory of the 'decoupling human well-being from the state of ecosystems' because we haven't adapted to meet the challenge of climate change. Which is a bit like taking your conclusion as your premise… presupposing what you intended to find out.
Having rejected the possibility that human adaptability explains the paradox, the study is inconclusive…
The environmentalist's paradox is not fully explained by any of the four hypotheses we examined. Our evidence indicate that we can largely reject the hypothesis that human wellbeing is decreasing; however, some aspects of each of the other three hypotheses are supported, whereas other aspects are invalidated (table 3). For hypothesis 2, it is clear that agriculture provides benefits to humanity, but locally those benefits can be outweighed by the loss of other services. The efficiency with which people have been able to extract benefits from nature has increased, supporting hypothesis 3, but technological innovation has not decoupled society from the biosphere. And while there are many important time lags in Earth's systems, which supports hypothesis 4, the consequences of those lags for human well-being are unclear.
… and calls for more research. As does Leo, who claims in the title of his article,
We need a better understanding of the 'environmentalist's paradox'
Here, then, is the better understanding of the 'environmentalists paradox'.
It doesn't exist. What the environmentalist sees is the consequence of the three things he has presupposed about the world. But all the data and empirical research in the world won't make the environmentalist examine his preconceptions. Hypothesis 3 is true, but it doesn't satisfy the environmentalist's questions about the paradox he witnesses, because he doesn't see that it is a paradox of his own creation. There was never anything to decouple from: humans simply did not rely on natural processes to the extent he believed. The natural processes that concerned the environmentalist were never as degraded as he understood them to be. What is more, 'ecosystems' never existed as some whole network of interdependent sub-systems that can be understood as governed by some force keeping the system 'balanced' and in 'harmony'. The 'better understanding of the environmentalists paradox' requires a better understanding of the environmentalist. What he needs is a mirror.
Roger Pielke Jr has a post about Bjorn Lomborg's apparent turnaround on the climate issue.
Specifically, his proposal for a low (starting and rising) carbon tax to fund innovation comes directly from the work of Isabel Galiana and Chris Green (in the video above) of McGill University, written up for Lomborg's Copenhagen Consensus exercise on climate change last year, and available here in PDF.  (I have collaborated with both, most recently on The Hartwell Paper, and I also was a participant in Lomborg's Copenhagen Consensus.)
Innovation and ways to fund it are worthy topics of discussion. The idea of a minimal carbon-tax to raise funds for low-carbon R&D seem like a good idea, costing little in terms of opportunity and $, and far more straightforward than carbon trading or offsetting, for tangible results.  The video of  Isabel Galiana and Chris Green (watch it at Roger's blog) makes some good points about technology led policy versus policy-led innovation — i.e. top-down vs bottom up, that Roger has made elsewhere. I interviewed Roger about his criticism of the UK's target-driven policy and its prospects last year.
However, I think this idea is a mistake, for two reasons.
First, I don't think that the policy comes after an understanding of what has driven the search for 'climate-friendly' energy policies. It comes after accepting the premises of climate-alarmism, and environmentalism.
Second, innovation of energy technology should be a worthwhile end in itself. It does not need climate change to justify it. If we can't see the value of cheaper, and more abundant energy to increasing the possibilities for development, or any form of human progress, then we've already lost the moral argument. Why should we make it a condition that any form of energy production in the future must be 'clean'?
This isn't to say that climate change is not a problem, but to say that it is possible that the fact of people living without sufficient access to energy might be a bigger problem. Indeed, it's far easier to quantify than the problems of climate change — which is what Lomborg was quite good at. Indeed, we could even say that a lack of access to energy makes climate change —  if it is a problem — a bigger problem than it might be, were energy more abundant.
As has been said before on this blog, environmentalism is not as much an concrete idea in itself as it is a constellation of phenomena. Its parts move independently to intersect with many other issues. One such convergence of issues is epitomised by the New Economics Foundation (whose policy director, Andrew Simms, was the subject of my previous post). In 2008, the group called for a Green New Deal, to avert disaster:
The global economy is facing a 'triple crunch': a combination of a credit-fuelled financial crisis, accelerating climate change and soaring energy prices underpinned by encroaching peak oil. It is increasingly clear that these three overlapping events threaten to develop into a perfect storm, the like of which has not been seen since the Great Depression, with potentially devastating consequences.
While environmental thinking is expressed differently by seemingly radical groups such as the NEF to their more mainstream counterparts such as the UK Conservative Party, the shape and function of those ideas and arguments is often similar. For instance, mainstream political parties don't argue for the end of economic growth (as the NEF do), and promise that growth is possible within a 'greener' economy. Yet the arguments produced by both will claim to have a foundation in material reality — the climate is changing, resources are running out, economic growth is now/forever impossible so we're all going to have to make do with less — and this claim is held to create moral and political imperatives. In short: we're told that material reality itself determines the parameters of politics. On this view, the best form of political, economic or social organisation can be read-off, so to speak, from data produced by studies of the natural world. Yet, curiously, the same data about the world produces often highly divergent claims about What is to be Done. It's not so simple, then, as reading from Mother Nature's script. Leaving the discussion about what is affordable according to material reality, what I suggested yesterday is that what 'thinkers' such as Simms do is to project their own anxiety onto the world, before any material investigation has begun.
An article in Der Spiegel is currently touring the alamist circuit.  The article claims that a 'Military Study Warns of a Potentially Drastic Oil Crisis':
A study by a German military think tank has analyzed how "peak oil" might change the global economy. The internal draft document — leaked on the Internet — shows for the first time how carefully the German government has considered a potential energy crisis.
Washington-based 'alternative news' website, The Raw Story turns a leaked, unpublished draft report by a German military think tank into a 'secret Germany military report', which claims that 'Peak oil could lead to collapse of democracy'. This gives the claims made in turn the appearance of sinister authenticity: they don't want you to know … It must be true.  But there is no reason to believe that being unpublished and being secret are the same thing, and there is good reason for doubting the provenience of the analysis. Are the speculations of the Bundeswehr Transformation Centre about 'Peak Oil' and its consequences any better than anyone else's — the NEF's, perhaps? A glance at the organisation's website suggests that it is the victim of the same form of disorientation and confusion about the world as any other think tank.
Transformation is the continuous adjustment to a continually changing and increasingly complex world. Transformation must be understood as a process in which the Bundeswehr takes the current and the future social, technological and security changes into account.

Change and adaptation reflect the natural course of events, they have always existed. However, not only quality and speed of the change and the need for adaptation have increased by now. The awareness of this process has also changed significantly. One must no longer just respond to change, but must anticipate it – who does not think today what may be the day after tomorrow will have missed the train of development tomorrow and be lagging behind.

The Bundeswehr Transformation Centre deals with this process. We try to define possible futures and to draw conclusions for the future capabilities of our Bundeswehr.
Aside from the fact that this absurd prose looks more like the work of some new age cult than a secret government outfit, The Bundeswehr Transformation Centre's very raison d'être is the study of change as such change threatens (I assume) the security of Germany and the operations of its armed forces. Two things should be said about this.
The first is that it is striking that there needs to be a special 'think tank' which is given the task of identifying threats to national security. After all, Germany was, just decades ago, literally ripped apart by an escalating conflict between superpowers, who drew a line through it. The threat existed in the form of powerful missiles pointed at its cities, ready to kill millions of people at the press of a button. There was no need of special think tanks to identify the threat in such times — geopolitics was indeed a great deal more straightforward.
Second, it must be at least plausible that the era in which East and West stood ready to annihilate each other has left a legacy that leaves us inclined to see the world in the terms of the scale of its conflict. The anxiety and paranoia remains, even though its object has collapsed. There is, so to speak, a totalising-threat-shaped hole at the very centre of not only political imaginations, but also the organisational structure of certain states. It doesn't require a leap of the imagination to wonder if the Bundeswehr Transformation Centre is looking for the next Soviet Union, and so is ready to see any threat — however small — as its equivalent.
The shameful state of politics of the UK at least, would seem to suggest that at least some politicians in the West struggle to define themselves without a crisis of one form or another to serve as their platform. And this has been the ground of environmentalism's rise. Not forgetting the War on Terror, of course. And now peak oil. There is a need for crisis, or at least a sense of crisis. What would our politicians do without it? It is the absence of threat that drives politicians to seek them. The moral certainty that emerges from a threat to survival comforts those who assume public roles but who do not really know how to offer any vision of progress. For us in the west, the post-cold-war era has been amongst the most peaceful and secure time in history. But it seems that peace and security is not a condition that leaders are comfortable with. Without it they lack identity and a vision with which to engage the public. And so think tanks — whether it be the NEF, or the Bundeswehr Transformation Centre — are recruited to identify the purpose of public institutions.
The anxiety about resource and ecological security fostered by politicians threatens to toxify relations between countries, rather than create the security that they aim for. Der Spiegel says that the report claims that, following its peak, 'Oil will determine power', this in turn will make nice, warm, fluffy democracies obliged to evil regimes. '"States dependent on oil imports" will be forced to "show more pragmatism toward oil-producing states in their foreign policy"', says Der Spiegel. Worst still, the government will find itself sandwiched between 'undemocratic' foreign powers, and domestic hostility.
Parts of the population could perceive the upheaval triggered by peak oil "as a general systemic crisis." This would create "room for ideological and extremist alternatives to existing forms of government."
Heaven protect us from 'ideologies' and 'alternatives to existing forms of government'! This is nothing new. The same argument is produced by each 'think tank' and organisation that seeks to exploit the Peak Oil issue. Here we see the problem of peak oil — if it is one — turn quickly into a problem of dangerous foreigners and subversive domestic forces: problems to be managed in lieu of ideas about how to achieve positive change. This appeals to politicians who cannot summon the ideas necessary to match the creativity of emerging economies, and to appeal to the increasingly disengaged public. Here is one such politician — Britain's first Green Party MP, Caroline Lucas — demonstrating precisely this mode of engagement.
Back to material reality. There is no single magic solution which will create limitless energy in the immediate future. But the idea that we face an immediate threat from the exhaustion of resources should not be taken at face value. Not only are there good reasons for feeling confident that there are sufficient resources to meet our needs for a good while yet, it seems obvious that we should question the increasing prominence of Peak Oil in public debate.
Attempts to read instructions from objective, material reality quickly turn out to owe a great deal to what happens in the human world. The attempt to form political agendas from what appears to be the state of the natural, material world — peak oil, climate change, population growth, biodiversity, and so on — comes after the messy, anxiety, aimlessness and sense of crisis have been projected onto it. It's as though what's out there is easier to confront than that same mess, aimless, crisis and anxiety. In today's silly debate about resources, too much exists prior to any sensible data about how to make the best use of them, occluding a clear view of our situation. The 'thinkers' that populate 'think' tanks and political organisations, having no positive programme to speak of, cannot respond to theoretical risks proportionately. Nervousness about change in the material world reflect nervousness about politics itself, so any notion of change amplifies, to become the next Soviet Union, the next Nazi Party, or the next great flood. It follows that vapid politicians with hollow agendas would make a virtue of scarcity.
25 months ago, Andrew Simms, Policy Director of the New Economics Foundation (NEF), warned that there are only 100 months to save the planet. Writing in the Guardian today, he reminds us that there are only 75 months of his deadline remaining…
To minimise the danger of alarmism, but without hiding from the facts, we set our parameters to assume that humanity would be on the lucky end of the spectrum of environmental risk. We were optimistic, perhaps too much so, about the speed and likelihood with which ecological dominoes might fall in a warming world. Nevertheless, what we found was startling. One hundred months on from August 2008 we were set to cross an atmospheric threshold.
Simms tells us nothing new, of course. The story is merely in the significance we attach to each month as though it were a meaningful period — a quantum of progress towards doom — such as with the date of a wedding anniversary, birthday, or moment of historical importance like an independence day. But each of these forms of significant dates ask us to remember something that happened while Simms' miserable little countdown asks us to remember something that he promises will happen. Its significance depends rather on what you think will happen. Dates of historical importance become ways of reflecting on shared values, and perspectives. As we've pointed out before, political environmentalism struggles to give itself historical importance, and so borrows significance from events and heroes from the early-mid 20th Century to compare itself to them — World War II, moon landings, the Suffragettes. Or it simply creates a mythology from scratch: natural order; tipping-points; balance; biodiversity; and sustainability.
And the eco-mythology in Simms's prose is stark. He claims that he intended to 'minimise the danger of alarmism', yet if you visit the site set up by him and the NEF at http://www.onehundredmonths.org you will even find a calander counting down to the deadline, clicking with each passing second. Each tick…tick…tick a notch closer to… what, if not alarm? And as for 'ecological dominoes'… The natural world is no doubt full of interdependent systems, but Simms's allusion to them depending on each other like so many carefully arranged slabs here is simply crass. Without such crass imagery and mythology, the 'new economics' — i.e. 'new politics' — that Simms and the NEF want to argue for, really do collapse. The NEF's arguments for poltical and economic change really are precariously arranged, such that the moment their alarmism topples over, so to do the arguments for what they call 'progress'. Simms sees fragility in the world. But he projects his own insecurity onto it.
More mythology…
The accumulation and concentration of greenhouse gases in the atmosphere would make it more likely that global average temperatures would rise 2 degrees above pre-industrial levels. That point was significant because 2 degrees is generally thought to be the temperature around which a number of complex environmental changes start to feed off each other, making their dynamics harder to predict and harder to control.
Let us understand Simms correctly… 2 degrees is significant because it is 'generally thought' to be significant. But 2 degrees too, is an arbitrary figure. Why not 1.9,1.95, or 1.975? What is it that causes 2 degrees to be the significant figure, such that the arrangement of 'ecological dominoes' is vulnerable to this degree of change? The answer is not something as definitive as the boiling point of water, or melting point of wax — something which causes a qualitative transformation of substance or mode. Instead it's a political target that has been later given through some superficially empirical reasoning. It's just convenient, just like '100 months' is convenient. 2 and 100 are numbers which lend themselves easily to campaign efforts, like slogans. They give superficial parameters, or goals, but don't actually have any foundation in science.
Simms concludes,
And what will the future look like? The severe droughts during August in Russia, and the huge floods in Pakistan may not be directly, causally related to current patterns in warming (although their scale and severity might well have been influenced by it).

But these are the kind of extreme events set to become more common in a warming world. High and volatile food prices are another intimation of the weakening security we all face.
Simms would never let a good crises go unexploited. But there is no reason why the 'kind of extreme events' seen in Russia and Pakistan this summer could be entirely eliminated. The world could have easily produced a surplus of grain, and Pakistan's civil infrastructure could have been developed, such that people could be at least protected from so much moving water. It's what didn't happen which cause these problems, not what nature threw at the world. It's worth pointing out that problems of drought are fundamentally problems of relying on natural processes for sustenance – which the NEF want us to do more of. But increasing our dependence on natural processes necessarily means risking more to the whims and changes of nature, making us more vulnerable to what happened in Russia, not less. In the case of Pakistan, once again it has been shown that it is those who live 'sustainable', 'low-impact' lifestyles — advocated by the NEF — who are most vulnerable to nature. It's poor people who live under those 'ecological dominoes', not the policy directors of self-regarding 'think' tanks.
In the previous two posts, I looked at the first lectures by Royal Society president, Martin Rees. This post relates to his third of four lectures, 'What We'll Never Know'. Lighter on the doom, it is a less dark story than the previous lectures. Indeed, Rees makes little mention of the climate.
So why am I making an issue of Rees's lecture here? One of the points we've tried to make is that climate politics are a
symptom
much more than a
cause
– they don't exist in a vacuum. We have also noted that as a cause, even environmentalism's wildest rebels have more in common with members of the establishment than with the 'man in the street'. Environmentalism in all its forms has a distinctly elitist flavour. Authoritarian arguments are given legitimacy by claims about the necessity of 'saving the planet' in spite of the consuming masses callous disregard for their own survival, and their ignorance and indifference to environmentalism's lofty aims. It's hard not to wonder, therefore, if the establishment has not absorbed environmentalism much more to save itself than the planet and the hoi polloi who inhabit most of it. Environmentalism as a symptom, then, exists within a constellation of other symptoms of the present, and Rees – as charming as he is – gives us some insight into the prevailing perspective. Some deep malaise afflicts the establishment's thinking.
The trouble is with perspective itself. As I discussed in the previous post, in his previous lecture, Rees sought to put our situation in cosmic perspective, seen through the eyes (or antennae) of aliens.
… in just a tiny sliver of the Earth's history, the last one millionth part, patterns of vegetation altered at an accelerating rate. …Then, in just one century, came other changes … the aliens could predict that the biosphere would face doom in a few billion years when our sun flares up and dies. But could they have predicted this sudden fever less than halfway through the Earth's life?

Rees found the widest possible perspective from which to speak. And it was there that he located authority for his argument. And it is the same in this lecture. He talks about our attempts to understand the universe through Newtonian physics, and then through Einstein's insight, quantum mechanics and string theory, ending at the possibility of parallel universes. Although he commendably points to the problems of reductionism – for instance, he talks about the inability of physics to explain the phenomena that emerge from it, such as chemistry, and then biology, and then psychology – he nonetheless seems to need a place from which he can speak objectively. It is as if unsatisfied with the view of the human world that humans have of themselves. In this lecture, Rees continues to search for the widest possible perspective.

But there may be mysteries, too, at the largest conceivable scales. There could be far more beyond our horizon, as it were, than the vast expanse that our telescopes can observe.

Between the infinite, the infinitesimal, the simple and the complex are us mere humans, trying to make sense of it all. And herein lies the problem.

One thing that's changed little for millennia is human nature and human character. Before long, however, new cognition-enhancing drugs, genetics, and 'cyberg' techniques may alter human beings themselves. And that's something qualitatively new in recorded history – and disquieting because it could portend more fundamental forms of inequality.

Rees is intensely aware of the vastness of space – most of which is inert and unchanging – and the possibilities that are created by virtue of its laws, but in his narrative, it is human nature that has remained fixed.

Putting his ideas about the augmentation of the human body and experience to one side, how does Rees know that human nature and human character have not changed for millennia? Is 'human nature' the same in 2010 as it was in 2010BC? And for that matter, is our 'character' the same now as it was then?
What is it now, and what was it then? One reason Rees might not have detected a change in human nature is that there may be no such thing.
Our condition – here in the West, at least – has changed considerably. (Why is Rees worried about inequality developing between fictional humans inhabiting the far future, when plenty of inequality exists right here today? )Thus the argument that our 'nature' and our 'character' has not changed must depend on the idea that these things are not in any material way determined or influenced by our condition. On Rees's view, something intrinsically human exists — there must be a 'human nature' and a 'human character' which exists apart from its condition. But what a dim view of humanity it is that sees it in such mechanistic terms. It is as if only drugs, genetic engineering and other technologies can modify humanity. But surely the important thing about humanity is its ability to change itself.

In defence of his idea of human nature, Rees might want to argue that you could take a 2010BC human at birth, bring him to the present, and he'd accommodate to his 2010AD home as well as any of his new contemporaries.

This may well be true. However, this defence fails to explain away the paradox that, even in Rees's own projection, it is humanity that alters its own 'nature' and 'character' through its own efforts. This form of self-modification is qualitatively different, to Rees, it seems, to the modification to human experience that has been effected by the development of language, civilisation, culture, and of course, science and technology. But no drug could cause a language, culture, or science to spontaneously develop between individuals. And it was not by force of 'nature' that such things developed in human populations. Nature did not invent the science that creates the possibility of changing our material bodies.

Rees maintains that human nature has not changed for thousands of years, but do we really want to believe that prehistoric humans experienced the world in the way we experience it, without our language, culture and conditions? Is our character the same, with or without protection from the elements, with or without the material security afforded by technology? Are humans the same, and do they relate in the same ways, with or without the means to develop socially, materially, and intellectually?

He then talks positively about the possibilities that science can create. And this is where the scientist really ought to shine. He discusses the automation of the process of discovery – space exploration, the development of new theories and new technological processes. But it leads to a disappointing question…

are there intrinsic limits to our understanding, or to our technical capacity?
The answer must be a better question: how can we ever possibly know what the limits of our understanding are? To have knowledge of limits of knowledge is to know them, or the limit itself is meaningless. The limits of our understanding are, by definition, beyond our understanding. The question about the existence of limits must therefore be equally pointless.
Powered flight was once beyond the limits of human understanding. So too was the nature of the atom, and how it might be split. But each discovery toward them created possibilities – not just for the technology itself, but for the very character of human life. Splitting the atom and powered flight changed human politics, culture, and experience, in turn creating new challenges as well as new possibilities. What sense does it make, then, to talk about human nature and human character – which presumably determines the extent of the limits of itself – when this nature and character is so changeable? Do human character and nature have any intrinsic properties that make them subject to limits? Rees presupposes that they do. But first, he reflects slightly more positively on humanity.

Humans are more than just another primate species: we are special: our self-awareness and language were a qualitative leap, allowing cultural evolution, and the cumulative diversified expertise that led to science and technology. But some aspects of reality – a unified theory of physics, or of consciousness – might elude us simply because they're beyond human brains, just as surely as Einstein's ideas would baffle a chimpanzee.

Although Rees aimed for a cosmological perspective, it seems he has done so at the expense of a historical one. Concepts that seem to us to be relatively simply might well have baffled our predecessors. However, even within the experience of an individual, cognitive leaps are made such that it's hard to know why we didn't understand yesterday what makes complete sense today. And although Rees nods at our unique capacity for self-awareness, he seems to offer an understanding of this faculty as one limited by definition, rather than something which is defined by development. Self-awareness surely implies some ability to adapt – to develop – one's own nature or character. Why isn't taking a degree course, or PhD in mathematics, for instance, not as equally transformative as is modifying human faculties through some kind of bio-engineering?
In spite of his calling the difference between the faculties of humans and monkeys 'qualitative', in Rees view, the difference  between a bug, monkey and a human is a difference of mere degree. He puts their capacities into ascending order. But this may be a mistake.
The monkey-human-posthuman sequence allows Rees to speculate about the terminal point of humanity's development, analogous to his cosmological perspective.

Ever since Darwin, we've been familiar with the stupendous timespans of the evolutionary past which led to our emergence. Many people envisage that  we humans are the culmination of the evolutionary tree here on Earth. But that doesn't seem plausible to astronomers, because they're aware of huge time-horizons extending into the future as well as back into the past. […] It won't be humans who witness the Sun's demise: it will be entities as different from us as we are from a bug. We can't conceive what powers they might have.

But what if Rees is wrong? Not wrong about our descendants building a better biology for themselves, but wrong about such an ability turning them into non-human, or post-human beings. What if those beings are simply more human, not less? Conversely, there is no way we could say that a human is more monkey than a monkey is. Monkey nature, and monkey character really have remained the same. Monkeys have been unable to transmit any meaningful improvements to monkey life to their offspring. Yet expressions of human 'nature' persist, generation after generation.
What if the beings who watch the collapse of the Sun (from a safe distance, I hope) celebrate us and our era as the early moments of humanty's leap away from being defined by nature towards being able to define ourselves instead. This is surely the possibility that self-awareness affords.
Rees imagines some capacity of our descendants to understand something about the universe that may defy our intellectual capability as it is given by 'nature'. But in doing so, it seems that Rees is limited to understanding the development of human capacities as being given by their biology. Of course, the possibility of extending our intellectual abilities to understand the world through biological technology remains. And of course, we aren't humans, with all the faculties of humans without being equipped by our biology. But do these facts really point to a fundamental limit, that can only be surpassed by evolving past humanity?

Rees's cosmological perspective seemingly gives him authority to talk about the ephemeral and insignificant nature of humanity, and the precariousness of our condition. We know nothing, when seen from the scale Rees prefers. But his beings have discovered the material universe. They are our betters, yet they do not even exist. There are undoubtedly positives in Rees's lecture. But they are half baked. Science offers us the means to better ourselves as mere biological beings, but only really to terminate humanity, rather than extend it.

The cosmological perspective and the post-human, are devices in a plot that tells us a story about us in the present. But it's not Rees's only story. We know about Rees' doom-saying. And this story about our limited and narrow perspective is part of the same narrative as his prophecies. Because, as we have pointed out at length on this blog, it's only when you take a narrow, limited, and negative view of humanity that you can make stories about our imminent demise, and the necessity of creating special forms of politics to prevent catastrophe from occurring. We are too stupid to adapt. The unnamed species that populate the future seem to exist in Rees's story only to diminish us here in the present. It is only when you take such a view of humans as impotent to address their circumstances that the possibility of creating special politics, and special political institutions to deal with such crises is created. Those politics, it just so happens, help the political establishment wriggle out of its own crises: it's own democratic failures; the growing distance and cynicism between it and the public; its aimlessness; and its lack of imagination.
An example. We are fond of taking that old truism from the environmental movement: 'climate change will be worse for the poor'. It is through this simple claim that many moral imperatives were formed. If you didn't reduce your carbon-footprint, your carbon sin would be visited upon the poor. Environmentalists reinvented 'social justice' as 'climate justice'. But notice that the truism implies something else. It could equally be used as an argument for the creation of wealth. That it wasn't used for such an end speaks about the implausibility of transforming the conditions that many humans endure. Poverty was taken as a given. It was 'natural'.