It can't be easy being a climate change alarmist just at the moment. In its desperation to keep the ragged flag flying, the Guardian has run a couple of very strange stories today. First up, in What happened when scientists photoshopped climate sceptics, they've rehashed an old story from last November about this image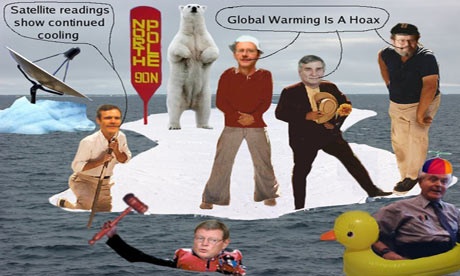 which was sent as an attachment in an email to Phil Jones by Tom Peterson of NOAA. As you can imagine, Roger Pielke Sr wasn't too happy with the suggestion that he believes that 'global warming is a hoax'.
Here's journalist Jenny Ridley's intro to her Guardian story:
This collage of 'marooned' climate sceptics was one of the leaked documents.It was originally sent as a joke to Phil Jones at the University of East Anglia2007 by the US scientist Thomas Peterson at the National Climatic Data Centre (Noaa) in North Carolina. An editorial from Nature was attached. It read: 'The IPCC report has served a useful purpose in removing the last ground from under the sceptics' feet, leaving them looking marooned and ridiculous'
That the Guardian is re-using the image now to cast cheap aspersions on the credentials of sceptics smacks not only of rank desperation, but of straightforward projection. The Guardian looks even sillier for apparently muddling Pielke Sr with his son Roger Pielke Jr. Hover over the image of the former and you get a caption that better describes the latter:
Long-time critic of the IPCC's stance on the links between climate change and natural disasters. Professor in the environmental studies programmeat the University of Colorado and a fellow of the Cooperative Institute for Research in the Environmental Sciences (CIRES)
The Guardian's confusion is confirmed by the link provided to an article written by Pielke Jr.
Also strange is the way that Ridley has chosen to describe Pat Michaels:
The eight of spades in George Monbiot's top 10 climate deniers, Michaels is a senior fellow at the rightwing Cato Institute. He played a starring role in Channel 4's The Great Global Warming Swindle and is regularly used by the US media, largely because he is one of the very few deniers who has any relevant scientific credentials.
It's strange, first, because each of the men depicted in the montage has 'relevant scientific credentials', with the exception of Inhofe, who is a politician. It's stranger still because Michaels does not, and has not ever 'denied' anthropogenic climate change. He has instead argued, in his scientific research and in – shock, horror, how dare he – the 'US media', that the IPCC overestimates the likely warming and its consequences. Again, it seems, Guardian journalists are unable to make a distinction between criticism of the ideas they have embraced, and 'denial'. Monbiot got it wrong. And Ridley reproduces the error. Have Guardian journalists not learned anything about copying and pasting?
It seems that learning from their own mistakes and the mistakes of others is still beyond them.
In another Guardian article today, we see another sign of the desperation of climate alarmists. Environment correspondent David Adam tells us that scientists from IPCC Working Group I have secretly confided in him:
Climate scientists who worked on the UN panel on global warming have hit out at "sloppy" colleagues from other disciplines who introduced a mistake about melting glaciers into the landmark 2007 report.

The experts, who worked on the section of the Intergovernmental Panel on Climate Change (IPCC) report that considered the physical science of global warming, say the error by "social and biological scientists" has unfairly maligned their work […]

Speaking on condition of anonymity, several lead authors of the working group one (WG1) report, which produced the high-profile scientific conclusions that global warming was unequivocal and very likely down to human activity, told the Guardian they were dismayed by the actions of their colleagues.
But less than a year ago, following the first Copenhagen meeting, Adam could be found speaking for all science in quite a different tone:
The message might sound familiar is that we have to act, and that we have to act now. But I think the scientists, they have been saying it for a while, and we've been saying it in the media for a while… but I think the scientists have lost a little bit of patience almost. I mean one said to me here that we're sick of having our carefully constructed messages lost in the political noise. You know this is the scientific community standing up and saying enough is enough, we've lost patience, get your act together.
We took issue with Adam's alarmism, contrasting his comments with those of Professor Mike Hulme: 'we should let politics decide without being ambushed by a chimera of political prescriptiveness dressed up as (false) scientific unanimity.' Adam was not amused, and dropped by to let us know:
I can't follow your argument. I can barely make one out through the rhetorical fog and linguistic gymnastics.
We had suggested – as we always do – that the kind of alarmism he was promulgating had a very political antecedent, and was rooted in his own confusion and his own prejudices. But how could this be? Science had personally told him that climate change is happening and that the orthodox political response followed inescapably. As he put it:
If your argument is only that politicians will exploit and even exaggerate the threat when it suits them then I agree with you. Such is life. Politicians do politics.

But, as I think you do, you want anyone to take seriously the argument that tackling climate change has somehow been constructed as a trojan horse through which politicians achieve goals or promote agendas by proxy, then you're going to have to come up with some stronger examples that some critiques of newspaper articles on climate science. That's just standard climate change denial.

You betray your true motives when you argue that you wish to prevent the "seamless flow" from scientific evidence to evidence-based policy making […]

Either climate change is a serious problem that requires a serious political response, with all of its failings, to address or it's not. I think it is. You seem to think not, fair enough. Like I said at the start, good luck.
Politicians do politics, you see, but Adam is above that sort of thing. The scientists he spoke for, too, were immune to any politics.
But now we see that WGII has – much as Adam has – credulously taken 'the science' from wherever it could be found to support the presupposition of catastrophe. The WGII report had taken it from Fred Pearce's New Scientist article, via a WWF report. Adam had taken his headlines from the scariest of the hundreds of posters presented at the Copenhagen meeting that had worked from assumptions about 'emissions scenarios' – projections – towards catastrophic stories about possible outcomes. And he had used it to make a political argument for 'action', seemingly in the voice of 'science'. Science spoke with one voice to Adam last March. This February it is fractured, and Adam cannot make sense of it.
Even more bizarrely, it is Fred Pearce – whose credulousness led to the 'Glaciergate' affair in the first place – who is now the Guardian's star reporter of climate scandal. The latest is the Guardian's attempt to capture the fallout from the disintegration of climate alarmism:
In a unique experiment, The Guardian has published online the full manuscript of its major investigation into the climate science emails stolen from the University of East Anglia, which revealed apparent attempts to cover up flawed data; moves to prevent access to climate data; and to keep research from climate sceptics out of the scientific literature.

As well as including new information about the emails, we will allow web users to annotate the manuscript to help us in our aim of creating the definitive account of the controversy. This is an attempt at a collaborative route to getting at the truth.
There is nothing 'unique' about this 'experiment', of course. The Guardian is simply doing what has been happening on blogs for months, if not years. Blogs of one form or another have produced most of the material challenging the establishment view – the orthodoxy reproduced in the Guardian by journalists such as Fred Pearce, James Randerson, and David Adam. It was precisely because journalists such as Pearce, Randerson, and Adam were unable to reflect critically on the climate debate and its terms – framing the debate instead in terms of 'the science' versus 'climate creationism', 'denial', and 'corporate funding' – that the blogosphere is where criticism happened. The Guardian's experiment reflects what we have been saying for a long time: its journalists' perspectives are tired reflections of the establishment's own tired perspective. Just a while ago, the line in the Guardian was that 'climate change denial' was confined to the blogosphere, and funded by oil interests. Now, the Guardian are synthesising the very object of their journalists' scorn.
Pearce oscillates wildly between headlines that proclaim 'How the 'climategate' scandal is bogus and based on climate sceptics' lies' and 'Climate change emails between scientists reveal flaws in peer review'. First, he appears to be suggesting that those behind the climate emails are the victims of 'lies', and then he 'reveals how [the same] researchers tried to hide flaws in a key study'. On the one hand, it seems, the Guardian and its journalists want to hold with the political arguments they have long been making. Yet they are having to work doubletime with doublethink to explain what happened to the science that was only yesterday incontrovertible.
Adam's own Guardian piece is far more revealing than he can imagine. The standard line from alarmists following the various IPCC-gate revelations is that, while it is clear that mistakes have been made, none of those undermine the basic science of climate change that says the world has been warming and that CO2 probably has a lot to do with it. Which might well be true. But it is also a misunderstanding of the real damage that the scandals have inflicted – a mistake that many sceptics have also made in claiming it as evidence that the basic science is wrong. The real casualty is not climate science, but climate alarmism. And in retreating to the firm scientific ground of WGI, Adam demonstrates it clearly. Without WGII and WGIII, there is no grounds for alarm. All the promises, projections and prophecies are contained in WGII and III. And without a scientific basis for alarm, all you have left at your disposal is precaution, as Ed Miliband has discovered.
It's a bed the alarmists have made for themselves, of course. They wanted a catastrophe, and now they've got one.