During my very busy spring and summer, one of the things I didn't have time to do was look more closely at the UK's General Election results. This post comes a bit late, but it's worth saying, nonetheless.
The election was perhaps the dullest and least inspiring in Britain's history (certainly in my history), which means that anything remotely unusual appeared as some kind of phenomenon. And so it was with the first ever seat in the House of Commons for Caroline Lucas, one of our favourite subjects here on Climate Resistance. Lucas won the seat for Brighton Pavilion.
Caroline Lucas's prominence in the media has always intrigued us. As a Member of the European Parliament, Lucas always got far more attention than most of her counterparts, more even than her fellow Green MEPs. As pointed out in previous posts here, Lucas has hardly scored well in European elections. In 1999, the Green Party in Lucas's constituency — the South East of England — only took 7.42% of the vote which only had a 24.73% turnout, i.e. they only earned the votes of 1.8% of the electorate. In the 2004 elections, they only performed slightly better, taking 7.9% of the vote with a 36.78% turnout — 2.9% of the electorate. In 2009, the Green Party took 11.6% of the vote with a 37.45% turnout, meaning 4.35% of the electorate — 271,506 out of 6,231,875 people. That's an improvement, of course — possibly largely due to the attention given to Lucas by the media — but it's an improvement only from virtually nothing to minor fringe in an era of mass cynicism of politics.
Clearly, Lucas's prominence in the media has been not only due to sympathy amongst TV and radio producers for her agenda, there's also the fact that her breathless and shameless doom-mongering and designer wardrobe helped to spice up otherwise dull current affairs programming. Her senior role as co-principle speaker (alongside Derek Wall) of the Green Party also helped boost her profile, but only marginally. When the party abandoned its commitment to flat hierarchy, Lucas was elected leader. With the slow decline of the mainstream parties support amongst the voting population, the possibility of a Green Party candidate in Westminster has grown. The Green Party faced the prospect of having its star performer locked away in the EU parliement at Brussels or Strasbourg, rather than in the UK, meaning that some scruffy hippy or eco-socialist might take the limelight from the party's leader. Lucas was parachuted into Brighton — arguably Britain's capital city for alternative lifestyles. You can get reiki with your mung bean salad and humous to go, in Brighton.
The media — especially the Guardian — hailed the Green Party's success as 'historic'. But was it? After nearly half a century of political campaigning as PEOPLE, the Ecology Party, and latterly as the Green Party, it is surprising that it has taken so long for the Greens to achieve what independent candidates have managed without a party — never mind 200 election workers for a single constituency — behind them. The results reveal a close race in a relatively high turnout of around 70%.
| | | |
| --- | --- | --- |
| Lucas, Caroline | Green | 16,238 (31.33% / 21.93%) |
| Platts, Nancy | Labour | 14,986 (28.91% / 20.24%) |
| Vere, Charlotte | Conservative | 12,275 (23.68% / 16.6%) |
| Millam, Bernadette | Liberal Democrats | 7,159 (13.81% / 9.7%) |
For each of the 200 party workers working on her election campaign locally, Lucas won 81 votes. Of the 74,000 people eligible to vote for Caroline Lucas, only 16,238 of them did. Her majority is is just 1,252. Nonetheless, she won…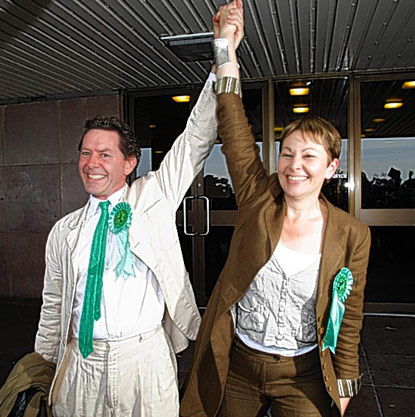 (An interesting aside…  the man holding Lucas's hand aloft — her partner, Richard Savage — 'taught' me English at upper school. So any comments about the abuse of commas, poor spelling and grammar on this site, you can address to him.)
So does this victory represent the electoral tide turning in the Green's favour, or was Lucas the lucky beneficiary of undeserved media attention, 200 party activists, and the sympathies of the most radical and alternative constituency? A view of the Green Party's performance across the UK suggests that the country is not turning green.
In fact, the party didn't even perform as well as it did in the 2005 General Election, losing 0.08% of the vote, but gained slightly in real numbers. In 2005, the party scored 257,695 votes nationwide, against a turnout of 61.2%. This year, the Green Party only improved this result to 285,616 votes, in a turnout of 65.1%, in which 29,594,978 were cast — the Green Party earned less than 1% of the vote. To put this into context alongside other non-mainstream parties, the British National Party got 563,555 votes, and the UK Independence Party — which mainly stands on an anti-EU platform — took 914,154, yet in spite of winning nearly 2 and four times as many votes as the Green Party respectively, neither party won a seat.
A closer look at the performance of other Green Candidates demonstrates that Lucas's result is an outlier.
The Green Party put forward 334 candidates. Of these, just 7 — SEVEN! in a party that has nearly 40 years of history — kept their deposits.
| | | | |
| --- | --- | --- | --- |
| Seat | Candidate | votes | %vote |
| Brighton Pavilion | Lucas, Caroline | 16238 | 31.33 |
| Norwich South | Ramsay, Adrian | 7095 | 14.92 |
| Cambridge | Juniper, Tony | 3804 | 7.59 |
| Lewisham Deptford | Johnson, Darren | 2772 | 6.72 |
| Brighton Kemptown | Duncan, Ben | 2330 | 5.46 |
| Hove | Davey, Ian | 2568 | 5.15 |
| Edinburgh East | Harper, Robin | 2035 | 5.1 |
It's worth pointing out, too, that these poor results include the seats right next to Caroline Lucas's: Brighton Kempton, and Hove. It would take you just minutes to walk between these constituencies, and you'd barely notice the difference between them. It's likely that these Green Party candidates benefited from the attention Lucas had from the local and national media, though reflects the ambivalence felt towards the party when there isn't a celebrity standing.
Even the next most successful Green Party candidate — Adrian Ramsay in Norwich South — failed to collect even half as many votes as Lucas. And the next most successful candidate again — former director of Friends of the Earth, Tony Juniper — barely got half as many votes as Ramsay.
The loss of 328 deposits would have cost the Green Party £170,000. But it gets worse for the poverty-stricken party of doom and gloom. 47 Green Party candidates polled less than 1% of the vote in their constituency. 258 Greens polled less than 2%. 310 Green Candidates polled less than 3%. 322 polled less than 4%. Her fame and success has not worn off on Caroline Lucas's brother, Eric Lucas, who only got 1,120 votes — 2.38% — in Bath. My old home constituency of Oxford East only gave GP candidate Sushila Dhall 1,238 votes – a loss of 2.1% of the previous election's Green vote. This is very surprising because Oxford East, like Norwich and Brighton, is a centre of more radical politics and culture, and has been home to the likes of George Monbiot, Mark Lynas, Crispin Tickell's son, Oliver, the author of Kyoto 2, and George Marshall, and was the place where Lucas began her career in politics. You would expect at least a challenge to the mainstream parties to have come from at least one other constituency in the entire country. But none came.
Here is the announcement of the result for Lucas's constituency, and her victory speech, as seen on the BBC's election coverage.
Thank you. Tonight the people of Brighton Pavilion have made history by electing Britain's first Green MP to Westminster.

Thank you so much for putting your faith in me and in the Green Party. Thank you so much for putting the politics of hope above the politics of fear.
Caroline Lucas rose to prominence in an era of political malaise. Her natty attire, earnest eyebrows, and in debate her shameless doom-mongery combined gave her an edge in the media that few other greens could ever hope to match. She has no other 'redeeming' qualities. She is an intellectual lightweight — a cipher — with only parrot-like grasp of the facts she uses in political argument. Her party is no less vapid, and her success has not been matched by its other candidates. Britain is no Greener for her election. Most surprisingly of all, she lacks sufficient self-awareness to cause her to feel any shame in  thanking her voters for 'putting the politics of hope above the politics of fear'. For someone with a PhD in English Literature, and who is married to an English teacher, she appears to have a particularly fragile understanding of the words and expressions she uses.