I haven't had the chance to have much of a look at what some climate activists are calling the 'sceptics climategate'.
Except it isn't. The sums of money involved here are minute, compared to the budgets of companies, NGOs, governments and bodies like the EU and UN to spend on environmental propaganda.
And this epitomises yet again the environmentalist's failure to develop a sense of proportion. Not only are the Heartland's funds dwarfed, there is no substantial relationship between it, the state, and other policy-making processes, as there are between NGOs, national governments, scientific research organisations and the UN, and of course, huge firms.
It is amazing to see how the environmental movement responds to challenges to its claims, authority, and privileged access to policy-makers. The UK's GWPF has a budget a fraction of the size even of the Heartland Institute, yet activists seem to believe that Nigel Lawson and Benny Peiser have between them prevented the possibility of the much sought-after international agreement on carbon emissions.
The documents allegedly reveal that some funding came from oil interests. If so, again the question is 'why so little'? If oil companies really were concerned about protecting themselves from regulation (in fact corporates benefit from tight regulation), why wouldn't they spend $tens or $hundreds of billions on campaigns? Why wouldn't they spend $billions — they have the resources, after all. But, of course, this 'oil companies fund denial' nonsense is a zombie argument; it's been put back to death so many times, it's barely worth repeating: oil companies also fund research and organisations that are impeccably green. As do people with substantial interests in oil — my favourite being Jeremy Grantham, who employs climate big mouth, Bob Ward at the Grantham institute. Grantham funded the Grantham Institute to the tune of £12 million — way more than the budget available to the Heartland — presumably, some of which came from dividends from the $1.5 billion dollars he has invested in oil company stock.
None of this bothers Bob Ward though, who is shamelessly tweeting about the leaked documents, as though there were no flies on him.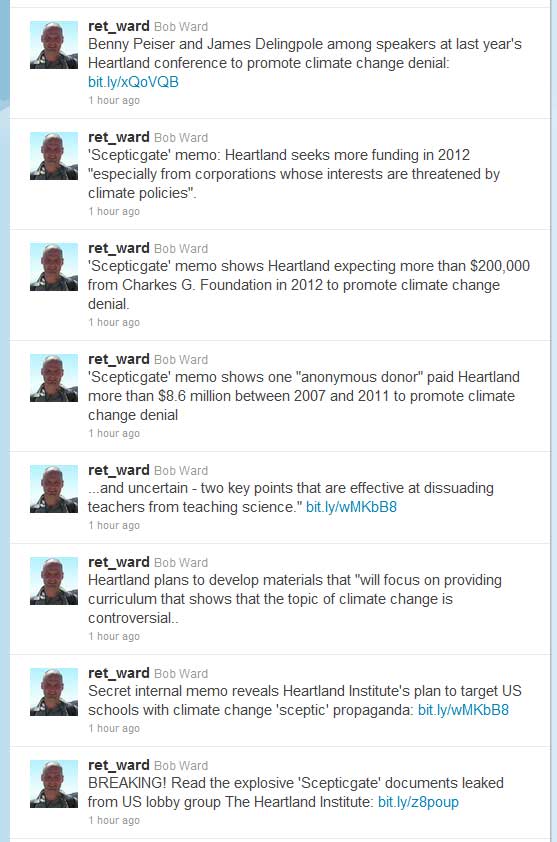 Ditto, green activists all over the web and twitter, as if they really had uncovered a conspiracy: a hidden network of relationships between huge firms, governments, secretive and undemocratic international agencies, and other vested interests.
But that description still much better suits the environmental movement.
These alarmists — aren't they! — have got hold of a number of strategy documents that might just as easily have been produced by the environmental movement, to discuss budgets, ways to intervene in the climate debate, how to do PR, and organise research. There's nothing dodgy about that — it's the way contemporary politics works. Strategy documents and business plans are not very exciting.
In contrast, Climategate — which I've never actually had much time for — surprised people, because the environmental movement had made claims about researchers' unimpeachable moral conduct, and pure, unadulterated scientific research.
The message from all this must be that the environmentalists who bang on about funding must be very, very desperate indeed to find ways of avoiding debate about climate change.