James Murray is the editor of BusinessGreen.com . Here are his tweets about the Heartland document leak.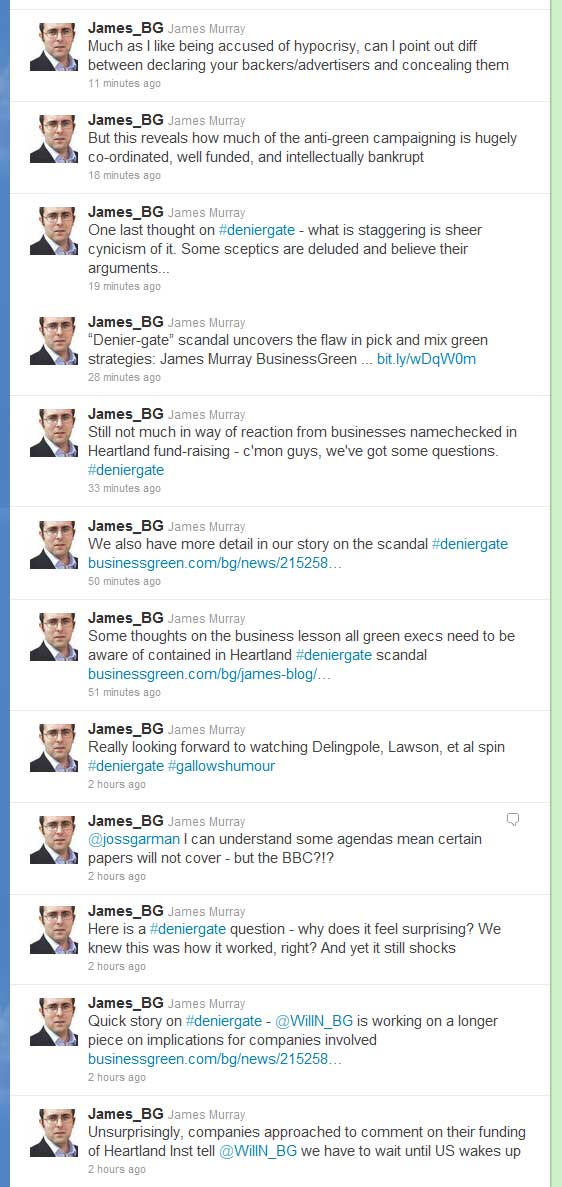 The faux-outrage of the ecological righteous about this is amazing, given that they can't actually say what the Heartland Documents reveal which isn't applicable to the strategies of the environmental movement, in spades. And James Murray's tweets and blog posts epitomise the hypocrisy and double standards.
Take, for instance, this warming from him that companies must be consistent…
what this scandal reveals is that if you are going to commit to developing greener business models, you cannot pick and mix which parts of your business get involved. Failure to enact genuinely company-wide change programmes means you are always at risk of seeing otherwise admirable green initiatives undermined by less progressive activities elsewhere in the business.

[…]

Any business that is publicly committed to a greener future needs to know who it is working with, who it is funding, and how its lobbying activities are managed. Failure to undertake this due diligence and ensure all lobbying activities are in line with the company's wider green commitments leaves an organisation facing the risk that one day a conscientious individual will reveal their support for anti-environmental campaigns. In one swoop, any hopes of establishing a company as a green leader can be lost for a generation. And that is the kind of surprise no green executive wants to face.
Murray is threatening anyone who might dare deal with the Heartland or any other organisation that publicly questions or challenges climate change policies.
And yet, is Murray's own house in order?
No.
BusinessGreen.com is owned by Incisive Media, which operate a fair number of specialist magazines, covering a range of industrial sectors. Amongst the portfolio are these, surprisingly un-green publications:
Global Technology Forum (GTF) provides senior engineering professionals and executives in the refining and petrochemical sector with leading technical conferences and training events. GTF has recently expanded its coverage of this important sector with its new website, GTForum.com. With a comprehensive global coverage of the downstream oil sector, GTForum is perfectly positioned to meet the needs of industry professionals all over the world.
Energy Risk Online is the leading digital subscription service dedicated to risk management, trading, regulation and trading technology for the global energy and commodities markets. The content of the publication has been described as required reading by chief financial officers, treasurers, chief risk officers, trading heads and fund managers around the globe. With world developments driving volatility in the global oil, gas and power markets, the need for a reliable source of information on risk management and financing is greater than ever.
Guess what… Behind Business Green is a company which trades with and profits from the fossil fuel industry. Tadaaaaaa! Look! A massive conspiracy!
Of course not. But then, neither is there much to the story that is currently exciting environmentalists and people like James Murray, who doesn't seem to know whether his role is the editor of a trade journal, the director of a business lobbying organisation, or just a propagandist. It's confusing of course, in these uncertain times. No wonder he's so confused about the Heartland documents.