Today sees the launch of the UK's National Oppostion to Windfarms (NOW). The launch of a group of citizens, working autonomously and without support from political parties or big business is usually the sort of thing Guardian 'journalists' like to celebrate. But Leo Hickman — the newspapers 'ethical' specialist — instead serves up a bit of a hatchet job.
The Guardian has seen emails exchanged between Nawag members sent over the past few months discussing the planning for Now. One exchange was about a suitable anthem for the group. Jerusalem and Blowin' in the Wind featured as favourites, but one member suggests alternative lyrics for the Dad's Army theme tune, Who do you think you are kidding, Mr Hitler? including a reference to the recently installed energy secretary Ed Davey: "Who do you think you are kidding Mr Davey/If you think this country's done/We are the Now Group/We will stop your little game/No more wind turbines/That blight our hills and planes."
Hickman, who likes to lecture others about 'ethics' — especially 'journalistic ethics', and the 'ethics' of leaking emails from UEA — doesn't seem to mind intruding on email discussions between individuals who campaign in their spare time, from their own pockets, and in their own front rooms and village halls. And what did he discover? Oh! The unmitigated evil! What a scoop! Clearly a plot by criminal masterminds!
Er… No… A discussion about which song best represents them. No trivia is too petty for the Guardian. We saw your emails, ner nerr ner nerrr nerr.
Moving upmarket a bit, Businessgreen — which claims to be a 'web site offering companies the latest news and best-practice advice on how to become more environmentally responsible, while still growing the all-important bottom line' but which is more concerned with whining about subsidy cuts than offering news and advice — reports verbatim on Renewable UK's response to the creation of the new group. Renewable UK, of course, are the re-branded British Wind Energy Association, which is to say they represent the interests of the wind industry. Is there any reason to think that Big Wind are any nicer than Big Oil?
The wind energy industry has today hit back at the launch of a national anti-wind farm group with the release of a major new survey showing that over two-thirds of people are broadly in favour of wind farms. The survey of more than 1,000 people, carried out by Ipsos MORI on behalf of trade group RenewableUK, found 67 per cent of respondents are in favour of using wind power in the UK, with 28 per cent "strongly in favour".
Ipsos-Mori have not published the results of their survey yet. I rang them, to see if I could get a look at the report, since the Guardian had also covered it, and Renewable UK had put out a press release announcing the findings of the survey. Nobody could take my call, so I left my number. I later got a call back from a press officer who believed I was calling from an anti-wind farm campaign. It's true that I think wind turbines are silly… Very silly. And it's also true that I've written and spoken about wind energy being a symptom of incoherent and weird politics — I'm speaking at the Cheltenham Science Festival about wind energy — but I wouldn't go so far as to call myself a 'wind farm campaigner'. This is just about the only post on this blog that I can think of which is about wind energy — amongst nearly 500 posts.
I wanted to know, however, what it means to be 'in favour of using wind power'. Wind power might be very good at some things — pumping water, or providing energy in remote locations, beyond the reach of the grid. I don't even object to wind on aesthetic grounds — What concerns me are policies, politics and economics, and their influence over choices of technique. And so I wanted to know to what extent people are 'in favour of wind power' — would they be in favour if it meant a doubling of electricity bills? Very few people are interested in how electricity is produced — they are interested in things like climate change, because they think all the polar bears will die; or they are interested because their electricity bills have risen. Those issues lead to concern about how electricity is produced. We will have to wait to see what Ipsos Mori discovered. Meanwhile, I'm not taking Rewnable UK's claims at face value, and I don't think it means anything to say that N% of people are 'in favour of wind power'. Indeed, the person from Ipsos-Mori was able to confirm that the survey didn't go to any depth about the strength of support for wind energy policies. So it means no more to say that people are 'in favour of wind energy' than it means to say that people are in favour of anything: strength of commitment is not measured by asking 'do you like X'?
So much for the survey. I find it curious that such a powerful organisation as Renewable UK should be worried about a group of civilians that they organise opinion polls to be published to coincide with the launch of the campaign, and recruit their pals in the media to pen hatchet jobs and puff pieces. The Businessgreen article continues…
However, in a detailed rebuttal RenewableUK accuses the group of using partial and non peer-reviewed research to back up its claims, while noting that a host of wildlife and conservation groups, such as Friends of the Earth and the RSPB, support well located wind farms.

The trade group categorically rejects charges wind power is too costly and has little economic benefit, arguing that the sector direcly employs over 10,000 people while independent studies have shown onshore wind farms are now "slightly more expensive than conventional plant with an expectation of increasing competitiveness".
These statistics caught my eye. 10,000 people working in the wind sector? It seems an extremely high number for such little output. Indeed, according to Renewable UK, who publish data on wind energy installations throughout the UK, there are 339 on and offshore wind farms in the UK, with a total capacity of 6587 megawatts. If we assume that their combined load factor (the ratio of the capacity to the output) of 0.25, the net capacity of the entire UK fleet is 1647MW. And so if there really are 10,000 employees in the wind energy sector, each employee produces a capacity of just 165 kilowatts — enough for about 16 electric showers. This calls for a comparison with conventional electricity production.
According to it's 2008 annual report and accounts [PDF],
Drax is a power generation business operating principally in the commodity markets of power, coal, biomass and carbon. We purchase coal, biomass and carbon allowances from both UK and international suppliers. We currently generate around 7%of theUK's electricity and trade power in the electricitywholesalemarket of Great Britain.
Using statistics from Renewable UK and the Drax Group's report, I created this table…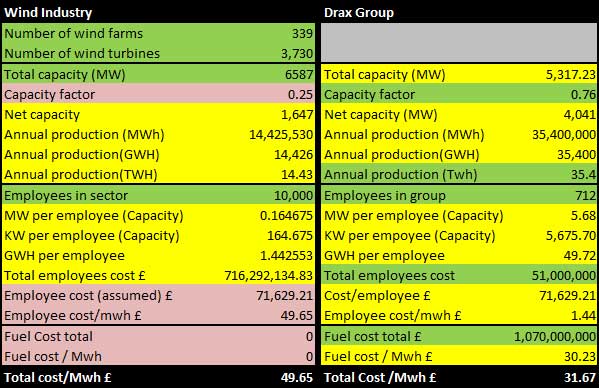 Green cells are known, yellow cells are calculated from the others, and pinkish cells are assumptions.
The results are stark. The Drax group produces 7% of the UK's energy, but has just 712 employees. Thus, it takes just 100 people to produce 1% of the UK's electricity. The 10,000 personnel seemingly working for the entire wind power sector are roughly the same in number as would be necessary to operate the entire UK's generating capacity, were it all like Drax's.
The entire wind energy sector has 14 times as many employees, but only produces just over a third as much as the Drax group. If we're only counting jobs, it may well be true that the wind sector is a big employer. But on that basis, we might as well simply just pay people to say that they work, but give them meaningless tasks to fulfil: set one group digging holes, and another to fill them in again. If we assume that energy sector workers are paid the same, within and outside the wind sector, each megawatt hour produced by the wind sector costs £49.65 in salary, but the Drax group produces the same energy for just £1.44.
The figures begin to look different when we add the cost of fuel for the Drax group's operations. 2008 was a year of high energy prices, which is the reason for choosing it as the measure. But still, wind energy comes out as significantly more expensive. And that is before we add the costs of subsidies.
Renewable Obligations Certificates to the value of (approx.) £694 million were given to wind farm operators in the year 2010-11. Adding that figure to the total means that each MWH of wind energy now costs £97.77 — three times the cost of the energy produced by the Drax group.
Of course, this is not a fully equipped, like-for-like comparison, but is not presented as one. There will be some jobs in the wind sector which are in the manufacture of widgets, gizmos, and so on. But then, why are they included in Renewable UK's analysis of jobs in the renewable sector? And the fact that Renewable UK offers this analysis to make the case for continued government support, across the EU and the world, should not be forgotten. It is now possible to get a rough idea of how the wind sector is able to have such a huge workforce, and why energy operators are keen to expand their renewable energy investments.
This is how Renewable UK say the employment in the sector breaks down [PDF]: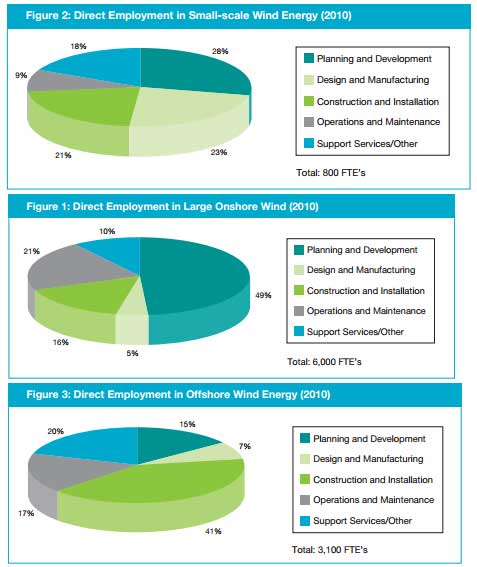 Renewable UK depend on continued preferential treatment from government to sustain their members' interests. The problem for those companies is that there has not been a public debate about energy policy in the UK. Only polling companies ever ask the public what they think, and they only ever ask questions which elicit meaningless answers, rather than demonstrate a no-regrets commitment to any given policy. The strength of public support for green energy has not been tested where it counts: at the ballot box. Few politicians have been brave enough — so far — to ask questions about the direction of UK energy policy. That democratic failure is now beginning to be manifested as material problems experienced by real people, and political friction within the UK, and across the EU.
Renewable UK are terrified that a spontaneous movement of people will deprive them of the uncontested favour that they have enjoyed from the current and previous government. They are worried that the voices of thousands of individuals from across the UK — without substantial resources — will form a single voice, which will inevitably attract the attention of politicians and the media. They are worried about what the continuation of their undignified PR campaigns will look like, when people realise it's a case of big energy companies versus ordinary people, with genuine grievances. It's a simple mathematical matter: the more people who find themselves unhappy with energy policies and rising prices, the more people will lend their support. And the more people there are, the harder it will be to mock comments from stolen emails, and to dismiss their concerns as unfounded.