I'm a big fan of scientific videos and visualisation generally. Here's a wonderful recent example.
There is a hazard, here though, in taking such images at face value, as is described at length on this blog. What we see in the above video is not just the planet; we see it in timelapse, we see its colours adjusted. We see the result of many $billions of scientific research, and millions of human hours of work, without seeing the work. And the images invite us to bring all sorts of presuppositions to the image. Here's an example: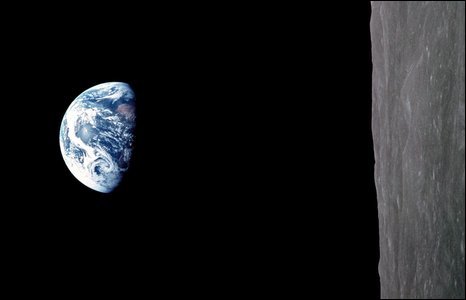 A BBC article on the history of the 'Earthrise' image credits it with starting the environmental movement:
These images, along with hundreds of other still pictures taken of the whole Earth during Apollo's nine flights to the Moon, helped to drive the momentum of a burgeoning green movement during the 1970s.

They fuelled an awareness of the vulnerability of the Earth which still resonates with us today and shapes our behaviour, as Fred Hoyle predicted it would.

…

Al Gore, […] also suggested that such live footage of the whole Earth broadcast continuously over the internet would provide a powerful modern reminder of the fragility of our home planet – in the way that those first hand snapped Apollo pictures had done all those decades earlier.
These claims are implausible for a number of reasons. Firstly, there never has been an 'environmental movement' in any meaningful sense. Environmental activists need to make big noises to make up for their small numbers. More fundamentally, environmentalism has always been a preoccupation of the establishment, and they had already had their imaginations captured by the environmental narrative. Nobody ever saw the Sun or Moon rise, and said, 'my god, don't they look fragile'. They don't. So why would seeing the world ever make anyone believe that it looked 'vulnerable'. Fragility, in this case, like beauty, is very much in the eye of the beholder. The environmentalist projects his beliefs onto the image. And he flatters himself that an image changed his consciousness, not realising he was staring at his own prejudices.
Here's a more recent example.
The image comes from an article on Huffington Post today. Claims the Huffpo,
The image above, from the USGS, shows all the world's water — from bodies of water, glaciers, soil, water vapor and even living things — in a sphere with a diameter of 860 miles. The volume of the sphere would equal 332.5 million cubic miles.

The USGS explains that the sphere only appears small in relation to the entire Earth — the diameter of the sphere is a bit larger than the distance between Salt Lake City and Topeka, Kansas.
So far, so good, then. It's an interesting graphic. Who hasn't wondered how much water there is in the world, and how big it would be, if it were all in once place. But then right behind the science comes the politics…
The research comes as experts warn that increasing water scarcity is likely to contribute to political instability in Africa and elsewhere. John Kufuor, a former president of Ghana and current head of the Sanitation and Water for All partnership, told Bloomberg, "People migrate to find water anywhere if there's a scarcity situation. People have fought wars to access water."

Even the U.S. is not immune from water shortages. According to the EPA, more than 36 states are expecting "local, regional, or statewide" water shortages by 2013, "even under non-drought conditions."
Just as it's not plausible that the Earthrise image began a movement, it's not plausible that this image speaks to us about the shortage of water on Earth. It's volume is 332,500,000 cubic miles; enough for 80,000 Olympic swimming pools of the stuff for each person on the planet. So, getting worked up about its immanent shortage is not unlike getting worked up about there being 'not enough food in the world', when you simply haven't gone to the supermarket.
The problem is one of just getting water to where it is needed. But this fact is omitted from the 'scientific' presentation, either of the entire world's supply of water, or in analyses that there is insufficient rainfall in some region, to meet the needs of people living there. This of course, chimes with the imperatives of the 'sustainability' agenda — that our demand for water shouldn't exceed its supply. Wars will follow.
But the corollary of this argument is that nature herself causes war. That looks to me like a pretty good argument for piping the stuff wherever nature didn't intend it to be. In fact, it is a robust argument for not relying on 'nature' to deliver water at all. But things such as water supply appear to us as something determined 'naturally'. Rob Lyons of Spiked-Online pointed out the danger of this fallacy, following the wettest 'drought' the UK has ever experienced,
The UK is not an especially dry country overall. The problem is that many of the wettest areas have relatively few people while the driest areas (particularly around London) are often densely populated. It should not be beyond the wit of planners to devise means to get the water to the right parts of the country. For example, while a national water grid would be expensive and (probably) overkill, it would be relatively easy to link the Severn – often engorged with water from the Welsh mountains – with the Thames, which flows through London. There's even an existing canal between the two, currently undergoing restoration. Alternatively, we should just go the whole hog and build the capacity to desalinate a much larger chunk of the capital's water needs.

But the main game in town right now is 'demand management', not 'increasing supply'. We Brits, apparently, have the temerity to use more water than our European neighbours. We don't tend to water our gardens using rainwater from a butt and we don't flush our toilets using dishwater. (Though if Livingstone had his way, we wouldn't flush very often at all. 'If it's yellow let it mellow, if it's brown flush it down', he told a conference in 2005.) While Livingstone's mayoral opponent, Boris Johnson has, for all his other faults, talked up the possibilities for improving infrastructure, Johnson's Conservative colleagues in Whitehall seem to have adopted the make-do-and-mend mindset of greens.
The claims that water shortages will lead to 'wars in Africa' similarly misconceive the problem of not enough money as not enough water. And science turns up to show 'look, not enough water'. Anyone who makes claims of that order is projecting onto the world.
'Science' and images that look 'scientific', then, often belie some deeply ideological preconceptions. Such a phenomenon can turn something as great in abundance as water into something scarce. Worse, it then turns that image into a motive force. It uses images of the 'fragile' Earth, or the volume of water to unsettle confidence in the future, which is usually only convincing to those who already believe in it. This anxiety is in turn used to then make an argument for a solution to the problem, not in which abundance, but more scarcity is created. In other words, the illusion of scarcity is a political weapon. It demands that you eschew your ambitions, desires, or interests for the promise of mere survival. Science should be about overcoming such limits, not defining them for political ends.