Wind is now cheaper than fossil fuels in producing electricity in Australia, the world's biggest coal exporter, according to data compiled by Bloomberg.
What amazing news! So someone must have developed some amazing new technology!
Wrong…
Electricity can be supplied from a new wind farm in Australia at a cost of A$80 ($84) per megawatt hour, compared with A$143 a megawatt hour from a new coal-fired power plant or A$116 from a new station powered by natural gas when the cost of carbon emissions is included, according to a Bloomberg New Energy Finance report. Coal-fired power stations built in the 1970s and 1980s can still produce power at a lower cost than that of wind, the research shows.
Bloomberg's omission is fairly typical of news agencies these days. We might expect people reporting on things like energy markets to be a bit less… well… activist about the way they report things. Bloomberg isn't only attempting to report the news, it's trying to make it:
"The fact that wind power is now cheaper than coal and gas in a country with some of the world's best fossil fuel resources shows that clean energy is a game changer which promises to turn the economics of power systems on its head," Michael Liebreich, chief executive officer of Bloomberg New Energy Finance, said in a statement today.
Guess what, making energy more expensive 'turn[s] the economics of power systems on its head'.
We could, tomorrow, create a tax on bicycles. Let's say the tax is £8,000. Car manufacturers would now be able to claim that they had produced a car that was cheaper than the bike, right?
Would Bloomberg reporters fall for it? Of course not. Yet that must be how stupid Michael Liebreich thinks Bloomberg's readers are.
Bjorn Lomborg, however, tells a different story.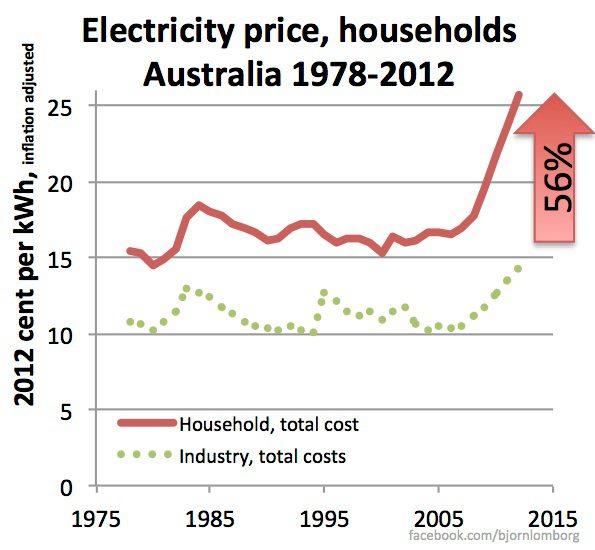 No wonder the Australians are angry. Electricity prices have shot through the roof, increasing 56% in real prices since 2006.

This is both because of green costs like the carbon tax and feed-in tariffs, but also because of aging electric infrastructure that needs to be changed.

The price is now ¢26/kWh, compared to the US paying just above 11 australian cents.
If it were possible for wind turbines to produce electricity more cheaply than coal-fired power stations, it wouldn't be necessary to push electricity prices up to make them 'competitive'. It is a straightforward concept that shouldn't be beyond the brains of news agency staff.