It should be clear to everyone by now that environmentalists have no sense of proportion. For instance, on the green view, the claim that 'climate change is happening' has been a matter of true or false, rather than a matter of degree. But is this misconception the consequence of green 'ideology', or simply a strategy intended to promote it?
A press release from Friends of the Earth on Friday announced:
Samsung questioned over tin as profits soar

25 January 2013

Commenting on phone manufacture Samsung's soaring profits revealed today (Friday 25 January 2013), Friends of the Earth's Head of Campaigns Andrew Pendleton said:

"Samsung's profits may be soaring, but do they come with a cost? The company has yet to explain whether the tin it uses in its phones is ravaging the tropical forests and coral reefs of Bangka Island, Indonesia.

"Research shows that tin from Banka is almost certainly in Samsung's products.

"New rules are needed to make all companies disclose their supply chains – starting with a Europe-wide law next year."

ENDS
FoE's research was published last November, in a report called, Mining for smartphones: the true cost of tin [PDF]. On page 20, the report explains FoE's decision to target Samsung:
Samsung is the top-selling smartphone brand in Europe. It offers a wide range of handsets and as a result has a global reach like no other – in 2011 it sold 95 million smartphones – that's nearly one in five of all smartphones sold worldwide (19.5 per cent of the global market share). In fact just one model, the Galaxy S, launched in June 2010, and updated Galaxy S2 and S3, has already sold more than 42 million. Samsung Electronics is South Korea's biggest company and has extended its reach as an Olympic Games 2012 partner and Chelsea football club sponsor.

When Friends of the Earth investigators contacted Samsung Electronics prior to publication to ask if the company sourced tin from Bangka or was aware of the damage tin mining is causing the island's communities and ecosystems, a Samsung spokesperson neither confirmed nor denied this. In a statement, the company said it took the issue of ethical sourcing of minerals very seriously. "Samsung is committed to upholding the highest standards of corporate responsibility, and we continue to evaluate our sourcing policies to ensure they comply with global standards associated with our industry," said a spokesperson. "We will monitor the Bangka Island situation to determine if an investigation into whether tin in our supply chain is being sourced from the region is required."

During Friends of the Earth's research Samsung was identified as a buyer or user of Indonesian tin via the supply chain of PT Timah.
The problem, according to FoE is the environmental destruction caused by tin mining operations in Indonesia. As this FoE film shows, it's certainly not a pretty process, and the lot of the workers involved in the production of tin have a pretty lousy time.
Tin is used in the production of mobile phones, chiefly as an ingredient in solder, a substance used to hold electronic components to circuit boards. But to what extent is Samsung responsible for the situation in Indonesia?
Let's start with the facts. FoE claim that Samsung sold 95 million smartphones last year. That's a lot of phones. So how much tin is that? Curiously, for it's emphasis on smartphones, FoE's report is vague about how much tin is in a smartphone. It produces this graphic instead. (Page 7).

A tablet contains between 1 and 3 grammes of 'tin rich solder'. So let's assume that a smartphone, which is about half the size and complexity of a tablet, contains a gramme of tin rich solder. So Samsung used 95 million grammes of tin in smartphones in 2011. There are a million grammes in a tonne (1,000 grammes in a kilogramme; 1,000 kg in a tonne). So that's 95 tonnes of tin, for Samsung's global smartphone market.
Is that a lot?
No.
According to the US Geological Survey, in 2010, the world produced 277,000 tonnes of tin. On the FoE's own gallery of images of tin mining in Indonesia, it shows a picture of an operation that produces 50,000 tonnes a year:
So Samsung and the market for smartphones hardly drive the bulk of production of tin in Indonesia.
Pretty much any electronic device will contain solder and therefore tin. It is an extremely useful substance. But its extraction, like the extraction from the earth of many useful substances, causes problems. And those problems are far more pronounced where institutions that might regulate extractive processes and protect workers are not as developed as they are in the west. For another instance, we might want to look at the extraction of rare earth metals for use in wind turbines and electric vehicles, which is arguably a dirtier and more dangerous process, but which Friends of the Earth seems to ignore.
In the past, a large part of the world's supply of tin was produced in the south west of England. And the story was similar. As the following video from Cornish Mining World Heritage demonstrates, what was once a dangerous and exploitative industry is now celebrated for its historical significance.
Might it not be the case that in a hundred or so years — perhaps, and I hope, many fewer — that the tin mines of Indonesia will become museums like their Cornish predecessors? How is it that we can see Britain's part in the history and development of global trade as so essential, but the expansion of such processes into the emerging economies as such a bad thing? After all, aren't they the same story? The video shows, even if it doesn't say so directly, the transformation of an economy, alongside the transformation of the landscape, politics, and concomitantly, the conditions that workers in tin mines experienced. Now we see videos like this, and perhaps visit the museums that now stand in place of the mines. They show how much life has changed. We would not tolerate the danger, the child labour, and the rates of pay. But in 19th Century Britain, there was no Friends of the Earth, and there were no global environmental NGOs complaining about the environmental impact of mining.
None of this is to defend unsafe working conditions and the ruthless exploitation of workers, of course. However, green NGOs have a tendency to not present the development going on behind the ugly images they trade in. Data from the World Bank is useful here.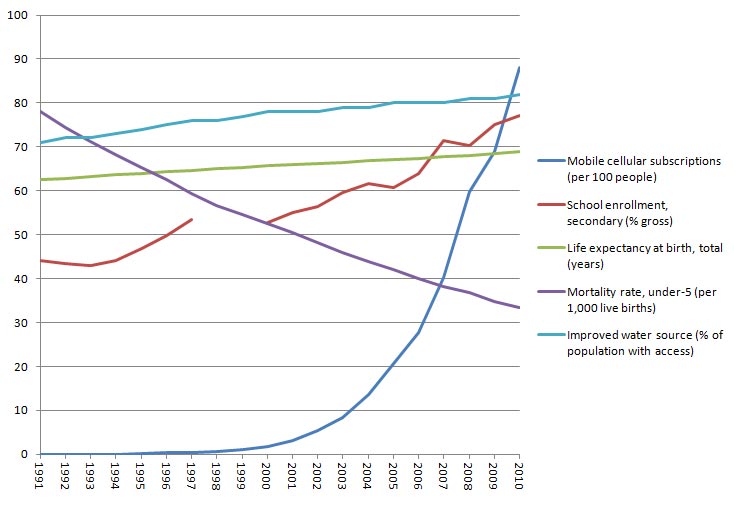 As we can see from the above chart, the most striking thing is that mobile phone usage is now pretty widespread. It's not as if Indonesians have been left out of the mobile phone and tin markets. The second most striking change in Indonesia since 1991 is the decline in infant mortality — from 80 per 1000 live births in 1991 to 33 in 2010. Next, we see enrolment in secondary education rising from 44% to 77% in a generation. Then we see life expectancy rising from 62 to 69. Finally we see 11% more people enjoying access to clean water than in 1991. Over the same period, GNI per capita, PPP (at current international $) rose from $1,390 to $4,180.
What is clear, then, is that in spite of the picture FoE have presented, conditions for people in Indonesia — tin miners amongst them — have improved. Readers will no doubt differ in their views about whether or not this progress is fast enough, and what, if anything could be done to speed that process up. The rights and wrongs of this need bringing out of the debate. On the one hand, it is hard to imagine that we owe nothing to people whose working conditions are dire if we are in a position to help. However, the basis on which we intervene in the political and economic lives of others needs careful consideration.
This is how Foe see things though…
As major users of tin and hugely influential brands that deal with companies buying tin from BangkaBelitung province, we're also calling on these smartphone giants to:

> Bring together affected parties in Bangka to agree and implement a plan to halt environmental and human problems caused by tin mining.
> Back new rules for all companies to come clean about how they do business.

We don't have all the answers for Bangka. But as a crucial first step Friends of the Earth and our colleagues in Friends of the Earth Indonesia, Walhi, want Samsung and Apple to bring together all the affected parties to agree and implement a plan to halt environmental and human problems caused by mining. Finding a solution will need to involve miners, fishermen, government and other community groups. Friends of the Earth believes mining firms shouldn't be allowed to operate without community consent, cleaning up properly afterwards and avoiding operating in precious ecosystems and habitats.

To help prevent these sorts of problems happening elsewhere in the world and to ensure that companies make our favourite products in a way that's within the limits of our planet's ability to support us, we're asking Samsung and Apple to support Europe-wide legislation requiring full reporting on product supply chain impacts.
What is immediately obvious is the self-conscious tacking of human problems onto environmental concerns. After 200 years of history, the people of Cornwall — the descendants of the first industrial tin miners — are able to assert themselves politically. They are protected from dangerous and exploitative working conditions. These are rights which we expect for ourselves, and would surely wish for everyone. But wishing them for everyone means letting other people decide for themselves what the value of their environment is. The conditions FoE put down, however, are that mining operations must not take place in 'in precious ecosystems and habitats', and operate 'in a way that's within the limits of our planet's ability to support us'.
The first problem, then, is that any emerging economy will be developing into space that is, on the green view, a 'precious ecosystem'. Even in the UK, where barely a square inch of the landscape can be claimed as untouched by human hands, protests about building roads and homes still take place on the basis that it will disturb some ecosystem or other. Yet this image from the UK National Ecosystem Assessment Report tells a different story: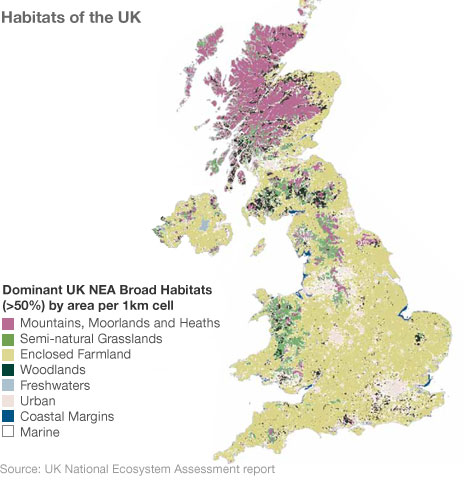 Barely 1.5% of the UK has something built on it — be it a home or a road. James Heartfield demonstrates the problem with the greens' mindset at Spiked — the environmentalist's failure to develop a sense of proportion:
Meanwhile, Britain's protected Green Belt is expanding all the time. Currently it accounts for 12.6 per cent of the land area of England. 'Special areas of conservation', 'sites of special scientific interest' and 'areas of outstanding natural beauty' account for a further 29.8 per cent (see More Homes and Better Places, published by the Building and Social Housing Foundation in September 2011). New national parks are also being created, the latest being the South Downs that stretches from Eastbourne to Winchester. The marking out of these restricted areas prevents any development of any scale from taking place.
The population of the UK are squeezed into 1.5% of its area, while flora and fauna frolic in the remainder. So if that's what environmentalists want for an industrialised, advanced economy like the UK, what do they want for Indonesia?
It isn't clear. And it never is clear. The sense of disproportion in the green argument is in this sense, strategic: to give the substance of numbers to an argument means committing yourself to redundancy once that number is made a target, and then realised. To leave the figure unstated gives the environmentalist to push for more, more, more. Moreover, giving the argument the perspective of numbers allows the putative destruction of one area to be seen against a greater whole — context. What might be a tragic episode for a one-eyed Disney-esque perspective might in fact be a convenient trade-off of development and conservation on a view with more depth. It might well be the case that Indonesians could decide for themselves that Bangka, as beautiful as it is, is a sacrifice worth making.
No doubt, however, Indonesia's turbulent political history, and the economic circumstances of many Indonesians have precluded the kind of public debate about planning we might expect in the UK. But then, is the issue environmental? Or is it political? The basis on which FoE decide to intervene in the lives of Indonesians, then, doesn't emerge out of a desire to work in solidarity with poor Indonesians, but out of what seems to be a desire to 'protect the environment'. Hence, FoE call for 'Europe-wide legislation requiring full reporting on product supply chain impacts'. FoE demand that mining shouldn't occur without 'community consent', but the politics of tin mining in Indonesia is to be settled in Brussels and Strasbourg. It's not enough that the EU's undemocratic influence only extends as far as Europe; it is to set standards for the rest of the world, too, driven, as it is, by 'civil society' organisations — NGOs like Friends of the Earth. Environmental concerns, invariably expressed in unscientific and hopelessly catastrophic terms with no sense of proportion, are turned into world wide legislation by a level of governance with barely a mandate even from the people it governs. 'Community consent', my elbow.
Barely a mandate… for what seems to be a desire to 'protect the environment' But is that the whole story?
Something akin to a mandate is necessary, though, of course. And here we return to the disproportionate emphasis on just 95 tonnes of tin, that may possibly have been produced in Indonesia.
Friends of the Earth are attempting to raise the profile of their campaign by emphasising the putative environmental impact on a consumer item of choice — the smartphone. In this way, it is able to piggyback off, if not hijack, the marketing hype and consumer demand for these items. The remaining 276,905 tonnes of tin used in almost every other electronic item and plumbing system is not part of this story.
The campaign is launched. Obedient journalists (if that is what they really are) at The Guardian pick up the press release, and a journalist is sent off by plane, to meet with the victims of your desire for a smartphone…
Death metal: tin mining in Indonesia
If you own a mobile, it's probably held together by tin from the Indonesian island of Bangka. Mining is wrecking the environment and every year it claims dozens more lives
Yes, 'if you own a mobile', possibly… But also if you own a kettle, a low energy CFL lamp, an oven, a boiler, a radio… anything… it too is 'probably held together by tin…' from the same place.
But no matter, the campaign has its publicity, and asks for the public to 'Take Action'. Meanwhile, the manufacturers, keen to sustain their fluffy eco-friendly PR are forced to submit. Companies embarrassed, and public mood demonstrated, the NGO takes the proof of concept and demonstration of public mood to the legislators.
To say that this is cynical would be an understatement. After all, where is FoE's campaign for  the rights of workers who are not involved in extractive industries? Why is 'community consent' an issue only where a community attached to a 'precious ecosystem'? And what business is it of the EU's or the FoE's to demand negotiations between the 'community' and the mining operations? The 'environment' is merely a basis from which political interests can extend their reach.
So the failure to develop a sense of proportion is strategic. The story begins with a tall tale about your smartphone and the ugly impact of mining on a picturesque landscape. The 95 tonnes is but a tiny fraction of the tin extracted anywhere, but the campaign mobilises (pardon the pun) consumer guilt about the remaining bulk, and turns it into political capital. Next we see the lot of the workers, but again, not in proportion, and not in the context of development — they are helpless victims, incapable of organising themselves politically, and so need European NGOs and political institutions to protect them. And of course, the 'environmental destruction' itself is not discussed in terms of what an appropriate level of protection is necessary.
Were there any sense of proportion to the FoE campaign, consumers might shrug, rather than join the campaign. If the ugly steps of economic development and industrialisation were seen in their context of improving conditions, and the growing potential of workers to bargain for rights for themselves, FoE would be unable to put on a parade victims. And if the loss of 'precious ecosystems' in our own and other country's histories were seen in proportion to the vast stretches that — contrary to FoE's claims — still exist, it would be hard to say that it's not worth pulling tin out of the ground. And if there was any sense of proportion at all, the few people who are taken in by FoE's absurd campaigns would carry no weight with EU legislators whatsoever.
But perhaps the worst of the FoE's campaign is this unholy meeting of EU politics, 'civil society' and consumer 'democracy'. The attempt to forge superficial solidarity between consumers in the West, and Indonesian tin miners belies a compact between wholly undemocratic organisations. FoE market themselves through images of muck and squalor to channel emotions far more cynically than any brand marketing campaign. And rather than simply turning such emotion into profit, FoE turn images of poverty and deforested areas into political power.