Judith Curry and Brigitte Nerlich have been focussing on some interesting questions about scientists and advocacy. Judith Curry has quite a series on the subject, but the two posts linked to seem to have been provoked in part by Kevin Anderson's comments urging scientists to be 'advocates' in some sense, but that not 'speaking out' is 'more political' than speaking out: to speak out is to be an 'advocate of the status quo'. Here's Kevin Anderson.
Anderson's argument is not helped by the fact that the Tyndall Centre, where he deputy director and leader of the energy and climate change research programme, recently held a conference on 'radical emissions reduction', the content of which seems to be overtly political, to say the least. Here is one presentation at the conference, by Andrew Simms, who is famous for declaring that there were just 100 months left to save the planet (now there are just 35).
Andrew Simms, NEF/Global Witness, 'A Green New Deal: historical precedent and current potential' from tyndallcentre on Vimeo.
A problem for Anderson is that Simms's argument is more than just 'advocacy'. It is political. Certainly, he wants to talk about ways to respond to climate change. But Simms really wants to comprehensively reorganise the entire productive economy, to say how much each of us should have, and so on. There are many problems with Simms's arguments. But what concerns me most is that ideas like Simms's — such as the 'Green New Deal', for instance — get smuggled in under cover of "science".
The politics on show at the Tyndall Centre's conference has certain characteristics. First, the urgency of the climate issue is used to cement the foundations of new political institutions, like the Tyndall Centre, which place putative expertise close to policy-making. The problem should be obvious — nobody who disagrees with that compact between the academy and the state seems to have been invited to the conference. Second, the public is conceived of by the likes of Simms as an object which needs to be managed, and its behaviour and values engineered. The exclusion and objectification of the public represents a further departure from democratic politics. Rather than being advanced by popular movements, achieving their aims through the democratic process, we see influence for ideas like Simms's being sought by an academic elite and by politicians and political institutions, outside of democratic oversight, insulated from criticism by deliberate exclusion.
Anderson is no less political:
As it stands, policy makers are either running scared of the perceived wrath of the electorate or are choosing to listen to the sceptics' appealing messages of inaction rather than responding to the implications of the science. Similarly, business leaders fear both the ire of their shareholders and the unchecked forces of competition destroying any firm daring to go beyond incremental change. And as for the scientists, certainly there are a few brave heads raised above the parapet, candidly translating their analysis into the everyday language of politics and lifestyles. But most of us are remiss in this respect. Whilst over post-conference dinner drinks the atmosphere is of resigned melancholy, put us anywhere near a minister, CEO or journalist's microphone and we'll typically mutter platitudes of technological optimism and green growth.

[…]

As the religious doctrine of the Catholic Church impeded the progress of heliocentrism, so the competitive market dogma of contemporary politics constrains the free expression of academics today.
If Anderson wants to argue that it is imperative for scientists to speak out, he must at least deal with the problem that, to the rest of us, it seems obvious that the putative climate crisis is a vehicle for political agendas, for activists like him and Simms, and of course, for governments and political parties who find it difficult to connect with the public, and routinely seek ways to circumvent their own problems of legitimacy. He says that governments resist 'the implications of the science', but in reality, politicians saw opportunity in the climate crisis, hence they have sought to champion it. Leaving aside the technical questions around climate change, advocates of climate policy seem to be advocates of a certain forms of politics — forms of politics which we have seen before, and which have been attempted around different ecological issues in very recent history.
To put it very bluntly indeed, the eugenicists of mid 20th Century Europe and America had a moral responsibility, it would seem, to warn of the dangers of the contamination of superior races by inferior blood, through inter-racial marriages. Similarly, the Neomalthusians of the 1960s and '70s, who are today awarded honours by the Royal Society, were compelled to warn of a world overrun by hungry black and brown people — their science told them it would happen. The results of their computer modelling were indubitable. Global institutions and global policies were needed to ensure that the individual choices made by millions upon millions of unwashed, uneducated, uncultured people from non-white races didn't swarm and swamp the civilised nations. Science — the scientific consensus — said it was better that abject poverty persists, allowing nature to take its course, keeping otherwise uncontrollable populations in check. Policymakers dutifully obeyed. They seemed only superficially reluctant.
Whether or not 'climate change is happening', and 'the implications of the science' are as Anderson claims, isn't it possible that the climate crisis is in fact, first and foremost, a political crisis, born out of the prejudices of that form of politics? Isn't it possible that the role and functioning of science has changed as the relationship between the public and political institutions has changed? Isn't it possible that science's advocates are caught up in that change, without having formed a clear understanding of it, and the context of their own research? Indeed, isn't it possible that the political crisis can appear to the likes of Simms and Anderson as an environmental crisis?
The context of the climate debate seems to me to have been missed out by those reflecting on the scientist-vs-advocate problem. I don't mean it to say, 'oh, look, science was wrong about race, population, resource-use and limits-to-growth, therefore…', but it does seem obvious that the history of attempts to understand –and control — human society from a naturalistic perspective is not a very nice one. We can't talk about the need to organise global productive economy around the issue of climate change until we have discussed the same order of claims that were made, in living memory, about population, resources, and race. Scratch the surface of arguments for 'radical' action on climate change, and you find the Neomalthusian's arguments buried only slightly beneath. Scratch further, and find a great deal more of rank misanthropy. 'Stop scratching', say the environmentalists, 'or the world will end'.
Brigitte Nerlich hints at the problem:
These recent debates make public some of the dilemmas at the heart of making science public. These are particularly problematic in the context of climate change, where speaking up, from whatever perspective and position, can lead to being shouted down, but where speaking up is increasingly demanded of scientists in particular by people in high office, such as the UK's Chief Scientific Advisor Sir Mark Walport. The complex relationship between science, communication and policy (which is not as linear as some might think or wish it to be) and the complex relationship between science, advocacy and silence is however little understood (and quite easily misunderstood) and needs much more research. This also holds for the relationship between science and noise of course, but that's another story.

All these recent episodes demonstrate that every act of speech and every act of silence opens up a space for interpretation and misinterpretation leading to further speech and further silence. These acts of speech and silence also open up spaces for power struggles over who should speak (for whom), who has the right to speak (about what), how to deliberate about science and politics, what the outcomes of these deliberations should be, and so on. How we use our individual and collective acts of speech and silence to negotiate common (global, national, local) goals relating to the world we live in and want to live in, still remains a deep democratic conundrum.
Meanwhile, Judith Curry works from Roger Pielke Jr's schematic outlined in The Honest Broker:
While Jasanoff argues that Pielke's representation is over simplified, I think it serves well to clarify this particular debate. Below is my take on [Tamsin Edwards vs Gavin Schmidt vs Judith Curry vs Kevin Anderson] in this debate:

Kevin Anderson seems to view only one role for scientists – the Advocate – whether scientists choose to engage or be silent.
Gavin Schmidt sees the choice between Pure Scientist and Advocate, whereby anyone who engages has values and is therefore an Advocate.
Tamsin Edwards is a proponent of engagement but not of advocacy, putting her squarely in Science Arbiter box.
As for moi, I engage and get involved in policy discussions but do not advocate, putting me further towards the Honest Broker box than is Tamsin.
To make it explicit and clarify, my involvement in policy discussions related to climate change is:

* open up space for public discussion and argumentation
* question the efficacy of proposed policies at achieving desired outcomes and pointing out potential unintended consequences
* disclosing the limits of scientific information and the extent of uncertainty
* As summarized in my NPR interview:

"All we can do is be as objective as we can about the evidence and help the politicians evaluate proposed solutions"

This is different from advocacy (although i recall reading somewhere that hotwhopper regarded my activities as advocacy against mitigation). While advocacy is somewhat elusive to define, the Wikipedia definition serves well:

Advocacy is a political process by an individual or group which aims to influence public-policy and resource allocation decisions within political, economic, and social systems and institutions. Advocacy can include many activities that a person or organization undertakes including media campaigns, public speaking, commissioning and publishing research or polls or the filing of an amicus brief.

[…]

Back to my original recommendation that scientists should steer clear of advocacy unless they are prepared to make sure that their advocacy is not irresponsible (see my previous post (Ir)responsible advocacy). And if scientists are hoping that their advocacy will be effective, then they are advised to become educated about the policy process, politics, and the relevant science and technology studies research.

The roles of Science Arbiter and Honest Broker of Policy Options are ways for scientists to engage with the public and in the policy process without being an Issue Advocate.
JC also quotes Pielke Jr's definition of advocacy:
I argue that "stealth issue advocacy" occurs when scientists claim to be focusing on science but are really seeking to advance a political agenda. When such claims are made, the authority of science is used to hide a political agenda, under an assumption that science commands that which politics does not. However, when stealth issue advocacy takes place, it threatens the legitimacy of scientific advice, as people will see it simply as politics, and lose sight of the value that science does offer policy making.
This blog has long argued, a la Pielke, that scientific claims belie political arguments. However, the problem for the concept of 'stealth advocacy' might be that stealth advocacy is so very very stealthy that it is extremely hard to explain to the likes of (for instance) Anderson and Simms that they are advocates of politics/ideology/policies. It's obvious to me (and perhaps you) that Simms's argument is political. But perhaps it isn't so obvious to Simms himself.
I find it hard to fault Pielke, Nerlich or Curry's thinking on most things. But I wonder what use there is in an endless taxonomy of agents in the climate debate, and ideas about configuring effective relationships between science and governance.
Would even an honest broker have ever been able to resist eugenics and neomalthusianism? Could being objective about the evidence, and helping politicians consider the evidence have stopped the 'limits to growth' thesis from developing its toxic hold over (and against) the development agenda? Could public engagement have stopped 20th Century scientific racism?
The following may sound shrill, and lean towards a reductio-ad-Hitlerum argument. But notice that, even though we all now know that the racial science of the early 20th Century was political, not even the Royal Society is so aware of the difference between science and 'ideology' that it recognises mid 20th Century malthusianism as a racist doctrine and Paul Ehrlich as a nasty racist. The Royal Society gives Ehrlich awards instead, salvages his failed prophecies, and re-animates them to increase their own leverage in political debates about the environment. The task in front of the honest broker is bigger than he realises: it's him versus some serious institutional muscle.
What if the racists and neomalthusians really did have the best available evidence, but, for whatever reason, that evidence was inadequate, or simply wrong? Is it good enough to be wrong for the right reasons? What if the business of collecting the objective evidence was — as we now know it was — utterly contaminated by 'ideology'? Being objective is no guarantee of objectivity. What appears to us as objective is often subjective. If this simple fact was not true, science would neither be possible nor necessary; we would see things as they are.
What is the importance of things like climate and race to the 'future of mankind' that causes so much hand-wringing, such that billionaires donate huge sums of money to research institutions like the Smith School and Martin School at Oxford, The Grantham Institute, amongst a number of others, including the Tyndall Centre, to answer such questions? (Wasn't it the same compact between uber-wealthy 'philanthropists' and academic scientists that led to the Club of Rome and its Limits to Growth?)
It's obviously the case that, if we expect scientists to 'inform' policymaking, we create both an imperative for them to speak out, and we direct their researches, and we make the direction of that research vulnerable to vested interests and political agendas. Take, for instance, the Oxford Martin School's mission statement:
The School's research is helping to better anticipate the consequences of our collective actions, and influence policy and behaviour accordingly. We aim to develop new approaches to some of the most intractable questions. In fact, to be funded by the School, scholars must demonstrate that their research will have an impact beyond academia and will make a tangible difference to any of today's significant global challenges.
Similarly, the Smith School at the same University:
The Smith School of Enterprise and the Environment is a leading international academic programme focused upon teaching, research, and engagement with enterprise on climate change and long-term environmental sustainability. It works with social enterprises, corporations, and governments; it seeks to encourage innovative solutions to the apparent challenges facing humanity over the coming decades; its strengths lie in environmental economics and policy, enterprise management, and financial markets and investment.
The Oxford Martin School (OMS) wants to 'influence' not only policy, but also behaviour. As is discussed above, one of the presuppositions — for better or worse — of the democratic tradition produced by the Enlightenment is the idea of autonomous moral agents participating in public decision-making, and being free to make decisions regarding their own lives in the private sphere. The public is sovereign, and can hold power to account. We can see in the newly-emerging relationships between supranational organisations, businesses, the academy and the state, an institutional shift away from those ideals. That's not to overstate the existing influence of the Martin and Smith schools, (though it should also not be underestimated, as was recently revealed by David Rose). The point is to demonstrate the direction of travel — the form of politics which is developing, right under (or high above) our noses.
It's also worth noting that this idea isn't entirely new. Take a look, for example, at this journal produced by Techncracy Inc in 1937.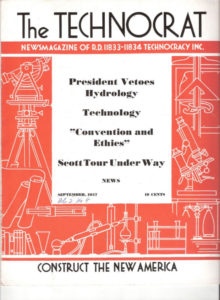 Technocracy is the science of social engineering, the scientific operation of the entire social mechanism to produce and distribute goods and services to the entire population of this continent. For the first time in human history it will be done as a scientific, technical, engineering problem. There will be no place for Politics or Politicians, Finance or Financeers, Rackets or Racketeers.

Technocracy states that this method of operating the social mechanism of the North American Continent is now mandatory because we have passed from a state of actual scarcity into the present status of potential abundance in which we are now held to an artificial scarcity forced upon us in order to continue a Price System which can distribute goods only by means of a medium of exchange. Technocracy states that price and abundance are incompatible; the greater the abundance the smaller the price. In a real abundance there can be no price at all. Only by abandoning the interfering price control and substituting a scientific method of production and distribution can an abundance be achieved. Technocracy will distribute by means of a certificate of distribution available to every citizen from birth to death.

The Technate will encompass the entire American Continent from Panama to the North Pole because the natural resources and the natural boundaries of this area make it an independent, self-sustaining geographical unit. Technocracy's blue-prints have been designed for this continent and for no other. It is an American Plan for the American continent. No imported political philosophies including Democracy, are in any way applicable.
But science wasn't quite the antidote to the excesses of ideology that it was hoped to be. And this is shown by the transformation of its advocates' vision. The ambition of Technocracy Inc. in the 1930s was the optimal management of the productive economy. Today, the justification of technocracies is conceived of somewhat differently. In 1937, advocates of technocracy believed that scarcity had been abolished, thereby making economics redundant, whereas the basis for technocracies in 2013 is the idea that in spite of almost another century of economic, industrial and scientific development, scarcity, either in the form of substance, i.e. resources, or as natural processes such as the sequestration of atmospheric CO2, persists. At least in 1937 technocrats believed in abundance for all. Today's miserable technocrats conceive of economics as merely insufficient to mitigate against scarcity. Science does not transcend its historical context quite as efficiently as its adherents claim, indeed, in many senses, it more precisely reflects the prejudices of political elites — the 'Politics or Politicians, Finance or Financeers, Rackets or Racketeers' — than even the politicians, financeers do themselves.
In our heads, we all want a technocracy to abolish politics and economics. Right, Left, or Centre, we all believe that ours is the most efficient way of organising public life and productive activity, which, free from obstacles would deliver the best of all possible worlds. We should therefore not rule out the technocrat's fantasy of efficient management too hastily. What we should criticise is the technocrat's desire for political organisation – that society can be managed according to a single, uncontested and uncontestable design.  Advocates of ideas about how society should be organised should be committed first to the idea that those ideas should win influence, stand up to hostile criticism, and be made legitimate by popular assent.
In other words, a technocracy might well be legitimate, just as long as we all wanted it. (But then, of course, it wouldn't really be a technocracy). Consider this…
Technocracy, Inc., realizes only too well that no political government on this Continent has either the courage or the structural facility to institute a Continental Health and Medical Service as proposed in the blueprint of The Technate of America, which includes in part, compulsory physical examinations of all citizens every six months; the application of preventative as well as curative medicine in diseases, etc.
A compulsory physical examination, every six months… It would be a wonderful thing if there were sufficient resources (i.e. we were all rich) for medical examinations every six months. But I deny completely that it would be a Good Thing if we did it, either voluntarily or by force. For the majority of us, it's simply not necessary. Such frequent and unnecessary interventions might, moreover, be damaging, physically, as well as psychologically, since such regular contact and monitoring would provoke anxiety and passivity about our own health. The price of deference to expertise is a bloated technocrat and the subjugation of autonomy. The idea of compulsory medical examinations gives the game away: it sounds like a great idea that will promote health, but it means you don't own your own body. Never mind debates about private property and its institutions; Technocracy Inc. wants to own you, body and soul.
The appeal of technocracy is, of course, only that it does away with politics. That is a desire shared by thinkers across the political spectrum. But science as the negation of politics denies the virtue at the heart of both.
But neither science nor politics proceed by excluding different perspectives. Both exist and proceed because of, not in spite of, different perspectives. Were it otherwise, science and politics would neither be necessary nor possible. But technocracy abolishes competing accounts of the world: it says that hoi-polloi is not competent, either to form a view of the world, or to make decisions about their own lives or public matters; and as the climate debate shows, unofficial interpretations of The Science are waved away as so much 'motivated reasoning' and the such like. In short: the desire to eschew politics and to replace it with science makes science political. It is ideological. It is as ideological as any "ideology" ever was. The result is the actual negation — denial — of science, the process of discovery. The purpose of science becomes instead efficient management.
And this is what Anderson is really driving at with his concerns that 'the competitive market dogma of contemporary politics constrains the free expression of academics'. It's BS, of course — academics have rarely ever been so free (and the electorate rarely so disengaged), yet he privileges 'academic expression' over the democratic expression of the wider public, who he frames in terms of their slavish obedience/lust for the promises of the market. Moreover, academics have rarely ever been so sought by political power to legitimise it. What seems to be bothering Anderson is that this transformation of politics has not been total enough. We should see this transformation reflected in the difference between the claims made by technocrats in the 1930s and their descendants today: whereas the earlier technocrats declared the era of scarcity to be over, today's technocrats promise only to deliver us from doom. Technocrats could not persuade anyone with promises of the most efficiently organised society, so technocratic ideas formed instead around the necessity of technocracy. Whereas the critics of capitalism in the 1930s promised more than capitalism (albeit without freedom), Anderson can only articulate an alternative to what he perceives as free-market capitalism (it isn't) in terms of disaster, catastrophe, Armageddon. Climate change can't just be a problem that could be managed within any number of political systems — it has to be a total, encompassing, terminal crisis, that mandates a particular response: political environmentalism.
And this is what is missed in attempts to define a proper public role for scientists in public life. A bit like asking where the banjo player should sit in a chamber orchestra. Or worse… A kazoo player. It would be obvious to anyone with an ear that they are out of place. That's not to say that there is no place for banjos, kazoos — or scientists — in public life (though I cannot think what they might be), but that the idea of them being essential is one ultimately borne out of the immediate problems of politics, not out of the necessity of public policy. This is not to say that expertise has no business in politics. Parliaments and other public institutions have always been able to call on expertise for information, evidence and advice. It is to suggest, however, that debates about the anatomy of honest brokerage, or to devise codes of ethics for scientists, may miss the point. There is insufficient reflection in debates about the climate about the scientisation of politics.
The rebuttal, of course, from the technocrats is that the world will end without them, and that anyone who argues otherwise argues with the whole of science (or at least the consensus). But this argument takes its premise as its conclusion: that the world is this hostile place, which demands optimal management. It is from this ideological premise that a lot science is advanced. The notion of the Earth as a collection of systems in fragile equilibrium on which society is closely dependent, for instance,  forms the basis of a great deal of policy as well as research into 'climate impacts'. This in turn encourages the idea that any changes in natural processes are in fact destruction, attributable to human economic and industrial development. Yet as hard as scientists have searched, no 'tipping point' has been established, and no optimums identified — they are instead presupposed to exist.
It should be obvious that Kevin Anderson, and many others, whether he knows it or nor, is doing more than science, and that the Tyndall Centre — amongst many other research organisations — has a political agenda, in spite of claiming to be working objectively.
So, rather than asking for a more clearly defined function for science, might it not be more productive, to admit to the debate the idea that science without politics is, for the moment at least, an impossibility, and that our understanding of the natural world is soaked through with political ideas, and has been to a greater or lesser extent since classical antiquity. Rather than excluding the objects of 'advocacy' from expert scientific advice to politics, might it be better to argue in the first instance for scientists to say that the questions and expectations of it need closer scrutiny.
In order to understand 'what science says', we need to be clear about what it has been told. Scientists are not going to stop being advocates, and the expectation of scientists to transcend advocacy, ideology, or politics is an expectation of science that it has demonstrated WRIT LARGE that is not yet equal to. However, we can interrogate the values, claims and ambitions of expert and lay environmentalists, independently of the science. Take for example, this nasty little piece in today's Guardian by Alex White:
Should Australian newspapers publish climate change denialist opinion pieces?
Should Australian newspapers, like Fairfax, publish opinion pieces that deny or seek to cast doubt on man-made global warming?
[…]

One of the arguments that I have seen against the notion that climate denialists should be given a media platform is that without it, there would be no "balance" in reports on climate change.

However, surely newspapers should aim for objectivity rather than balance, especially if one "side" is just plain inaccurate.

After all, what appears on newspaper opinion pages is a decision made by editors. Newspaper editors decide every day what merits inclusion in those pages; completely fanciful views are effectively banned through the decision not to publish rubbish.

Is the responsibility of major media publishers on honesty, accuracy and objectivity?

That seems to be the view of the L.A. Times, and of Reddit.

Does Fairfax have the same responsibility? Should it have published the McLean opinion piece?
White poses censorious statements as questions. And behind those statements are implications about individuals' capacities to make decisions about what they read for themselves, and the freedom that they should be entitled to, to form opinions for themselves, even if they end up contradicting 'science'. All of which makes White's desire for censorship more extraordinary, given his profile at the same paper:
Alex White is a leader in progressive campaign strategy, communications and social marketing, with over a decade of experience with unions and non-profits.
When did 'progressives' become so, erm, 'liberal' with the notion of press freedom? In the past, progressive movements were perhaps the loudest critics of appeals to putative objectivity in public matters, and fought against the regulation of the press. It was widely understood that seemingly objective claims about the material world were often, at best, premature. But now 'science' is being used to make arguments to limit what newspapers may publish, by left wing and environmental activists like White. We could wait for the honest brokers to say "but that isn't science", and that all the scientific evidence in the world cannot tell you about the rights and wrongs of limiting the freedom of the press. Or we could make the observation ourselves.
Too much emphasis on science is, in many respects, the problem. If it isn't science, it doesn't need a scientist to point it out. If scientists are advocates, then the debate is predominantly political, not scientific, and honest brokers may find themselves with very little to say. We might learn more from looking more closely at the descent of White and his kind from 'progressive' to authoritarian than we might from looking at charts depicting the extent of sea ice in the poles.