Over at Bishop Hill, Andrew Montford wonders,
Is there a competition on to see who can be the most revolting climate change activist at the moment?
It's a good question, and it arises out of an article posted on Business Green (an on-line news and campaigning site for green capitalists) by its editor, James Murray. More about that in a moment. First, the background.
Yesterday, Labour Party leader, Ed Miliband, chastised his counterpart, Conservative Party leader David Cameron, as the BBC reports…
The Labour leader said the UK had repeated the same mistakes "in post-conflict planning" for Libya as were made in Iraq and the current refugee situation should have been anticipated.
This has rightly caused many to point out that it is the oppositions' job to hold the government to account, but Miliband had not done so. And moreover, Miliband had given his support to the interventions in question, including the plan he now claims was absent, in 2011:
I support British intervention in Libya for 3 reasons: it is a just cause, with a feasible plan, and has international support

— Ed Miliband (@Ed_Miliband) March 21, 2011
It is only now that many hundreds of lives have been lost in the Mediterranean Sea as people flee the chaos unleashed in the region in no small part by such incautious intervention, that Miliband wants to make it an election issue.
This was, said James Murray, "disgracefully confected outrage over Ed Miliband's foreign policy speech", as though Ed Miliband's speech wasn't the self-same 'confected outrage' and worse, confected outrage from a man who actively supported the intervention and failed to ask questions of the Government in the following four years, in spite of weekly opportunities to put such questions to the Prime Minister directly. And even worse, this criticism came from the leader of a party whose own record of poor judgement has left hundreds of thousands dead across the world under the doctrine of 'humanitarian intervention'.
But for Murray, the main message was not the internal and external factors which have produced conflict across the Middle East and North Africa and the deaths of refugees… It was climate change.
But there are other macro-trends at play here that are driving thousands of people to risk their lives attempting to cross the Mediterranean, of which climate change is undoubtedly one.
The "climate change causes war" argument is the nexus of the two main preoccupations of risk- and security-obsessed politics, also known as the 'politics of fear'. The surprising outcome of the politics of fear is that it produces more of what its agents claim to eliminate. The Bush-Blair doctrine of eliminating the risk of terrorists seems instead to have unleashed a horrific and savage Islamic movement that has capitalised on the chaos and power vacuum left in their wake. A similar paradox emerges from the arguments of those who want to eliminate the risk of climate change. As has been explained here, environmentalism is a self-fulfilling prophecy. That is to say that incautious attempts to mitigate climate change risk increasing society's vulnerability to the climate.
This is a point that is very hard to explain to climate zealots — let's call them climate hawks — who are reluctant to admit criticism to the debate. Murry sets out his case…
We know that states tend to fail when they cannot feed themselves. We know that climate change increases the risk of disruption to food supplies in a region. We know that numerous societies throughout history have collapsed due to their failure to adapt to environmental change. We know that in 2007 UN Secretary-General Ban Ki-moon described the war in Darfur as the world's first climate change conflict. We know there is evidence that the violence triggered by the Arab Spring uprisings of 2011 were in part fuelled by protests over soaring food prices. We know recent research has suggested climate change played a role in sparking the Syrian War that in turn has played such a big role in fuelling both the rise of ISIS and the humanitarian crisis off Europe's southern coast.
But do we know any of this? Is it the case that 'states fail when they cannot feed themselves', or is it the case that food production and distribution becomes harder as states fail? The economist Amayata Sen, having witnessed the Bengal Famine, noted that often food shortage was less the cause of famine than the prevalent social conditions which beset its distribution — famines had occurred at times when food had been more abundant than when famine had been averted. No famine had occurred in a democracy, he observed. Ditto, is it the case that 'numerous societies throughout history have collapsed due to their failure to adapt to environmental change', or have they failed to adapt to climate change because they were collapsing for other reasons?
Should we take Kofi Annan's word for it that Darfur was the world's 'first climate change conflict'? After all, it was Kofi Annan's think tank, The Global Humanitarian Forum, which produced the 2008 report, The Anatomy of a Silent Crisis, in which Anan claimed 'Today, millions of people are already suffering because of climate change'. This suffering included 302,000 deaths per year from malaria, diarrhoea and malnutrition attributed to climate change, claimed the report, out of 7,550,000 deaths from the same diseases. As has been pointed out on this blog ad nauseum, to emphasise the putative cause of 302,000 deaths — climate change — ignores the lower-order consequence of 25 times as many deaths: poverty. Annan's callous moral calculus almost encourages us to believe that the 7 million — mostly infant — deaths are natural. Yet tackling poverty rather than climate change would have the effect of solving the problem of climate change, which now looks trivial.
Moreover, there is good research suggesting that conflict in Dafur had nothing to do with climate change.
In Climate not to blame for African civil wars, Halvard Buhaug argues,
Vocal actors within policy and practice contend that environmental variability and shocks, such as drought and prolonged heat waves, drive civil wars in Africa. Recently, a widely publicized scientific article appears to substantiate this claim. This paper investigates the empirical foundation for the claimed relationship in detail. Using a host of different model specifications and alternative measures of drought, heat, and civil war, the paper concludes that climate variability is a poor predictor of armed conflict. Instead, African civil wars can be explained by generic structural and contextual conditions: prevalent ethno-political exclusion, poor national economy, and the collapse of the Cold War system.
And do we know that 'protests over soaring food prices' were the spark that began the Arab Spring? The Gaurdian certainly thought so. But to the 'leave it in the ground' campaigners rarely stop to think about the effect on prices of abolishing fossil fuels, or subsidies for its consumers — the self-fulfilling prophecy. And we can moreover return to Sen, to point out that, even if there were apparent environmental causes for reduced harvest and thus higher prices (and so on to protests and conflict), the dominant issue was the tyrannies that failed to address the population's needs, not the relative scarcity of food crops. Here is a graph showing wheat production in the region. (Data from UN FAOSTAT).
It is true that Syria suffered a drought in 2007-8, which can clearly be seen in the chart. And no doubt the internal displacement that is attributed to this drought changed conditions that would be significant later on. But is it enough to say that climate change was a factor in the conflict which developed several years later? It doesn't seem to account for the political changes seen in Egypt. Nor in Tunisia.
But the green argument is more complex… There is a global dimension to food production — the market — as this research argued…
In 2011, winter drought in eastern China's wheat-growing region had significant implications beyond the country's borders. Potential crop failure due to drought led China to buy wheat on the international market and contributed to a doubling of global wheat prices; the resultant price spikes had a serious economic impact in Egypt, the world's largest wheat importer, where bread prices tripled. Egypt's geography and population combine to create a dependency on imported wheat and a subsequent exposure to external commodity factors. Bread is the staple of the Egyptian diet, and for decades bread subsidies have been used to maintain social stability.
So let us bring China into the chart…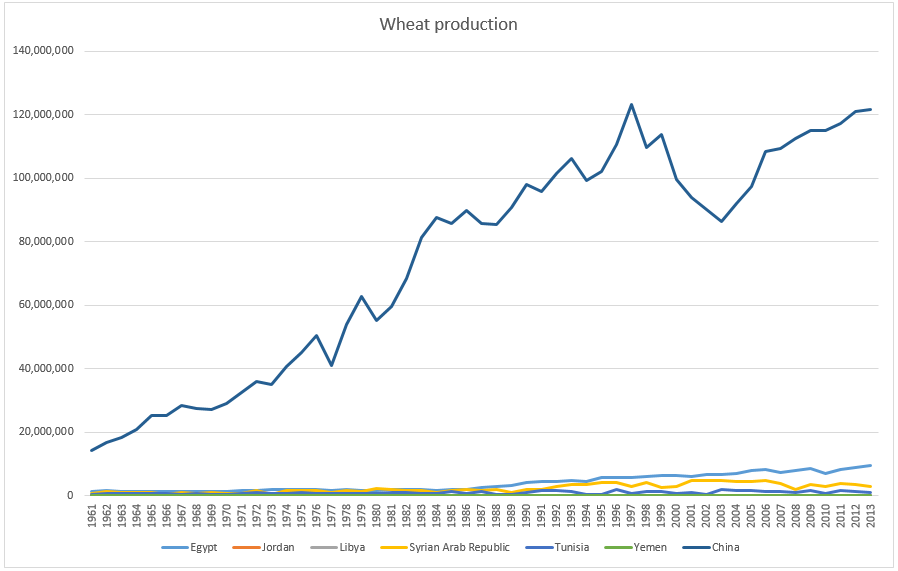 As we can see, there is no climate signal in the statistics for wheat production in China — unless we want to say that its increasing productivity is the consequence of climate change. This calls for closer inspection of the argument…
"Potential crop failure due to drought led China to buy wheat on the international market and contributed to a doubling of global wheat prices"
Potential, not actual crop failure led to a policy decision, which pushed up prices. Here are those prices, from Index Mundi.

But there was no significant reduction in global wheat production that year, though it was slightly depressed from the previous year.
It is the environmentalists' tendency, of course to see upward prices as a reflection of actual scarcity, the consequence of environmental degradation. But the figures rarely bear out this relationship. The rights and wrongs of the Chinese government's anticipation of wheat shortage would no doubt produce debate between those of left and right persuasions about central planning and market failure. But meanwhile, the green steals a march on red and blue with vulgar economics. The climate debate descends to science.
Over at his blog, Thomas Fuller gives many reasons not to take at face value the claims that climate change contributed to the conflict in Syria. These include (in no order):
* Population growth
* Historic vulnerability to episodes of drought, including two years with zero precipitation 1870-71.
* Water diverted by Turkey
* No significant global trends in drought
* Deep discontent with the Syrian regime
* Previous droughts did not lead to conflict
* Other countries experiencing the drought did not descend to conflict
* The humanitarian crisis existed before the drought
And more. Read it.
The substance of what Murray says we "know" in fact turns out to be mere speculation. And highly contested speculation at that, with much criticism of the putative links between climate and conflict emerging from within the green camp itself. It is even contested by the IPCC
Climate variability or climate change are popularly reported to be significant causes of the mass killing in the Darfur region that began in 2003 […]All studies of this conflict agree that it is not possible to isolate any of these specific causes as being most influential […]. Most authors identify government practices as being far more influential drivers than climate variability noting also that similar changes in climate did not stimulate conflicts of the same magnitude in neighboring regions[…]
And it even warns that incautious attempts to mitigate climate change may themselves be the causes of conflict:
Chapter 12 (12.5.2) page 17.

Research is beginning to show that climate change mitigation and adaptation actions can increase the risk of armed conflict, as well as compound vulnerabilities in certain populations (Bumpus and Liverman, 2008; Adger and Barnett, 2009; Webersik, 2010; Fairhead et al., 2012; Marino and Ribot, 2012; Steinbruner et al., 2012). This is based on robust evidence that violent political struggles occur over the distribution of benefits from natural resources (Peluso and Watts, 2001). Hence, in circumstances where property rights and conflict management institutions are ineffective or illegitimate, efforts to mitigate or adapt to climate change that change the distribution of access to resources have the potential to create and aggravate conflict.
"Violent conflict increases vulnerability to climate change (medium evidence, high agreement). Large-scale violent conflict harms assets that facilitate adaptation, including infrastructure, institutions, natural resources, social capital, and livelihood opportunities. [12.5, 19.2, 19.6]"
So climate change policy may increase the risk of conflict, and the conflict will increase people's exposure to climate change.
The IPCC goes on…
Actions taken in response to climate change can aggravate existing significant inequalities or grievances over resources (Marino and Ribot, 2012), limit access to land and other resources required to maintain livelihoods, or otherwise undermine critical aspects of human security (Bumpus and Liverman, 2008, Fairhead et al., 2012). Maladaptation or greenhouse gas mitigation efforts at odds with local priorities and property rights may increase the risk of conflict in populations, particularly where institutions governing access to property are weak, or favour one group over another (Barnett and O'Neill, 2010; Butler and Gates, 2012, McEvoy and Wilder, 2012). Research on the rapid expansion of biofuels production includes studies connecting land grabbing, land dispossession, and social conflict (Molony and Smith, 2010; Borras et al., 2010; Dauverge and Neville, 2010; Vermeulen and Cotula, 2010). One study has identified possible links between increased biofuels production, food price spikes, and social instability such as riots (Johnstone and Mazo, 2011).
And on…
The provision of financial resources in payment for ecosystem services projects, such as are associated with Reduced Emissions from Deforestation and Forest Degradation (REDD), has the potential to stimulate conflict over resources and property rights (Melick, 2010). For example, efforts to ensure 'REDD readiness' in Tanzania (Beymer-Farris and Bassett, 2012; 2013; Burgess et al., 2013) and the Congo basin (Brown et al., 2011) have been contested, and placed communities in conflict with conservationists and governments. Eriksen and Lind (2009) similarly find that climate change adaptation interventions in Kenya have aggravated surrounding conflicts.
And…
Climate change mitigation will increase demand for deployment of less carbon-intensive forms of energy, including hydropower some of which have historically resulted in social conflict and human insecurity (for example because of forced resettlement), and this is a basis for concern about increased violence and insecurity in the future (Conca, 2005; McDonald-Wilmsen et al., 2010; Sherbinin et al., 2011). Other research points to an increased use of nuclear power increasing the threat of nuclear proliferation or incidents of nuclear terrorism (Socolow and Glaser, 2009, Steinbruner et al., 2012). Climate policy responses also have the potential to reduce conflict in various ways, as explained further in Section 12.5.4.
And this adds more armour to the observation that environmentalism is a self-fulfilling prophecy. Recalling Sen's maxim, the anti-democratic tendency of environmentalists — the view that democracy isn't equal to the problem of climate change, and so institutions must be constructed above democratic control — would replicate the configuration of power that allowed tyrants and their indifference to their populations' needs to reign.
Murray continues…
Most of all though, we know that even if climate change is not the primary factor behind the current tragedy this humanitarian disaster and the seemingly intractable geopolitical challenges, nationalist tendencies, and crushing grief it invokes is precisely the kind of disaster security analysts expect to see worsen in a world afflicted by escalating climate change.
Who are these security analysts? Are they the same analysts Ed Miliband consulted when he determined that UK intervention was 'a feasible plan', or perhaps the ones that devised the plan? Were they the same analysts that compiled and 'sexed-up' the 'Dodgy Dossier' that made the case for invading Iraq? Are these the same security analysts that didn't anticipate the emergence of ISIS/ISIL? Are they the same analysts that presided over a decade and half of interventions across the world that have left thousands of young soldiers dead or seriously wounded, and killed hundreds of thousands of people that had nothing at all to do with terrorism, or fundamental interpretations of religion, and cost hundreds of $billions, if not $trillions?
I asked Murray to explain…
@clim8resistance Also, not sure fact defence establishment was wrong about WMDs proves they will be wrong about everything forever more

— James Murray (@James_BG) April 24, 2015
Which built on his earlier equivocation…
Just to be clear, I am not saying climate is only or even main factor. But there are serious studies that suggest it has role.

— James Murray (@James_BG) April 24, 2015
And it is clear this is the kind of crisis that the defence establishment (hardly treehuggers) have warned climate change will make worse.

— James Murray (@James_BG) April 24, 2015
Murray's logic appears to be that because the population of the 'defence establishment' aren't your typical muesli-pushing Guardian readers, they have no obvious interest in climate change, and therefore can be counted as an authority. But this misconceive's the sociology of the 'climate establishment' and the ascendency of environmentalism, as well as the development of risk-politics (discussed in depth in recent posts). The ascendency of the climate issue cannot be explained by the force of so many environmentalists asserting the issue over the political establishment. If it was thus, they were pushing at an open door. The climate issue was expedient to the political establishment and its agenda, much as the schedule of the War on Terror was established before dodgy dossiers were compiled. That's not to say, of course, that climate change isn't real and that there was no plot to bring down the World Trade Centre. But it is to say that politicians preoccupation with risk prefigures their response, and that the security agenda is in general prefigured by domestic politics more than by objective fact. Preoccupation with risk allows speculation to be passed off as fact in exactly the same way Murray's concatenation of things we 'know' allowed him to claim that people drowning in the Mediterranean Sea is 'what climate change looks like'.
That preoccupation with risk is expressed differently in arguments about climate and terror, but the logic is the same, and their nexus is interesting. Since the claims in currency are so contested, it would be prudent to understand the desire to naturalise complex things such as war than to take the claims at face value.
The desire to stuff complex social, political and economic phenomena into the terms of an encompassing ecological narrative overwhelms people who struggle to make sense of the world, and those who resist simpler or inconvenient explanations. And of course, those who would like to elevate themselves and the industries who finance operations like Business Green. The green story allows people selling renewable generators to appear to be saviours and planet-savers, not merely brokers of hardware. In the same way, presenting the War on Terror as a battle of civilisations — as latter day Churchills against their Islamic Hitler counterparts was a hollow morality play.
And this brings us back to Murray, who doesn't understand how or why anyone could object to his article and its headline.
This is what climate crisis really means http://t.co/mFajHbSlBr

— James Murray (@James_BG) April 24, 2015
As the tragedy in the Mediterranean demonstrates, the climate crisis is a humanitarian crisis http://t.co/UYs7m9am0L

— James Murray (@James_BG) April 24, 2015
As confected row on Miliband Libya speech continues, worth noting crisis echoes climate security expert predictions http://t.co/UYs7m9am0L

— James Murray (@James_BG) April 24, 2015
Fair to say blog on Med crisis+extent to which echoes Pentagon/MoD climate security warnings has angered 'sceptics' http://t.co/UYs7m9am0L

— James Murray (@James_BG) April 24, 2015
Just to be clear, I am not saying climate is only or even main factor. But there are serious studies that suggest it has role.

— James Murray (@James_BG) April 24, 2015
And it is clear this is the kind of crisis that the defence establishment (hardly treehuggers) have warned climate change will make worse.

— James Murray (@James_BG) April 24, 2015
If you think pointing that out is 'cynical' or 'ambulance chasing', I can't help you.

— James Murray (@James_BG) April 24, 2015
ICYM There's reason to believe climate impacts are factor in tragedy in the Mediterranean (alongside other factors) http://t.co/UYs7m9am0L

— James Murray (@James_BG) April 24, 2015
And climate sceptics think it is somehow cynical and disgusting for anyone to point this out http://t.co/UYs7m9am0L

— James Murray (@James_BG) April 24, 2015
Murray claimed:
This is what climate crisis really means
The tragic deaths in the Mediterranean are precisely in line with the predictions of climate security analysts, without urgent action they could herald an era of mass migration and international tension
What Murray says is wrong in every respect. The deaths in the sea are not at all in line with security analysts' predictions — else they would have counselled against the interventions. As IPCC AR5 report makes clear, 'urgent action' could well be a conflict risk factor in the same way that incautiously bombing other countries creates the risk of further conflict. The people struggling to reach Europe are escaping brutal regimes and conflict, not bad weather. And the 'international tension' already exists, was caused by regional conflict and external intervention.
The fact that people try to escape conflict and persecution needs no explanation. One only needs to see footage from any war to see precisely that refugees are one of the most predictable consequence of war. The cause for this that Murray chooses to emphasise is is weak, theoretical and highly contestable. Murray claims that 'this is precisely the kind of extreme event climate security analysts from the Pentagon to the MoD to the world's top insurance firms expect to see happen more often and with more intensity'. But this is owed to the increasing tendency to attempt to frame complex social and political phenomena in natural terms, not because of any developments in rational or scientific attempts to understand the world.
Never mind the abuses of fact and reason. Many find Murray's words disgusting because his short-cut through the complexities of the world is so cheap. It makes instrumental use of other people's suffering, to service a political agenda, and turns it into a marketing opportunity. It hides behind authorities like the 'defence establishment' and Kofi Annan, but flies in the face of empirical evidence and even the scientific consensus, to make claim that other people's lives would be better — there would be no war — if only we'd buy solar panels from Business Green's clients.